Update and questions
This job has turned into a root and branch no pun intended consisting of disciplining and modelling.  We have completed 75% .
Re the package. I was not certain how to leave it in the house so I have bought it to my place for safe keeping.
Ctrl and + to enlarge the images.
#1   This is the remodeled bush. There were three different species fighting for the same area and excluding light from their neighbors. The branches will straighten out over time.  You can now see out over the valley when you sit to have your coffee at the GWR bench.
#2   We have accumulated a huge pile of spoil, most of which was not suitable for bagging.  You asked me to leave it but it is fair to warn you that it would require 4-5 trips in your landy.   I can have it removed for £160 using my associate with a full sized truck. I suppose it depends on your personal preferences / whether you enjoy moving stuff.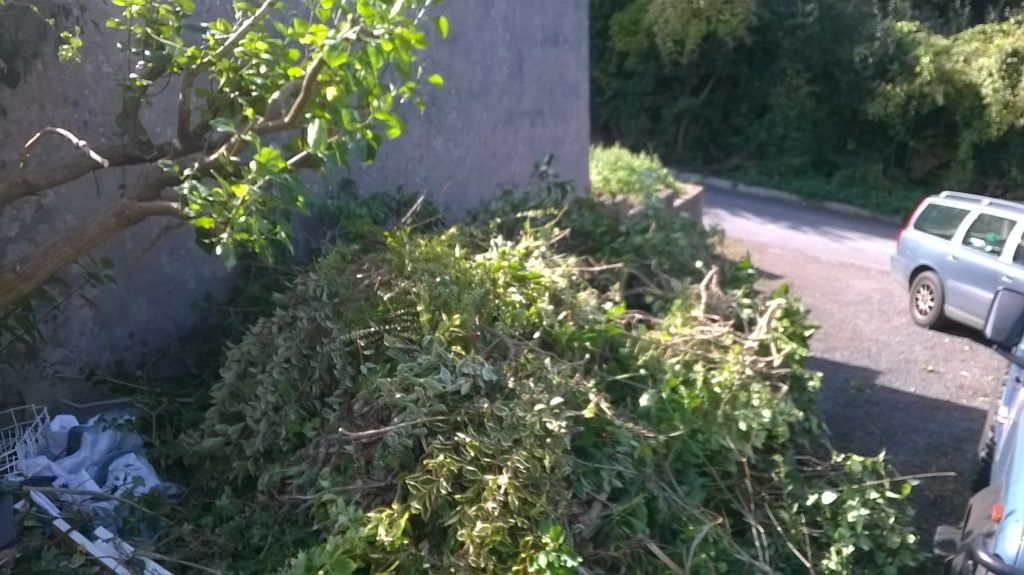 #3  It was necessary to remove the apple tree branches which were causing the electricity supply (telephone line?)  to your house to come under pressure.
#4 My associate gardener who is also a builder said that sooner or later the ivy would weaken the brick work of the house though it is not the worst variety.  He suggested that the bottom branches could be cut and in 2-3 months time the whole could be pulled down having rotted.  Up to you of course. Just a thought.
#5   Do you want these items removed, also the kitchen sink unit at the side.
#6 with the willing permission of the chap next  door we have pruned back the hedge between the two properties thus opening up the garden.
NB  I did 'his' side otherwise it would have looked awful. No charge to you for that.
#7     The job has been fairly demanding on hours, but hopefully the work will last you for the next 18 months except the hedges.  I can do them for a good price.  I have remodeled the hedge so that you can do it with ease yourself. Your Bosch 70cm cutter has an excellent reputation and will deliver. You need a 25m cable though.