Part two of my daily diary for Wednesday, 24 May. About 11 AM we decided on impulse to drive to Salisbury, a city that I have not visited for about 30 years. This will be a largely pictorial comment on a visit to the town, and particularly concerning the Cathedral. Details of the art season as well as concerts and events can be found here and the Cathedral abounds with them. This Cathedral is well-known for it's interest in modern art.
One of the blessings of living in Somerset is that there are many places that are within an hour or so's drive of Midsomer Norton and Salisbury is one of them. We decided to use the 'park and ride' scheme which saved us about seven pounds on parking charges but didn't make much of a dent on our expenditure for the day (ooops) which was our wedding anniversary.
First some examples of local artists' work exhibited at the local library in Salisbury. I absolutely love the casual nature of the way the works were displayed including the Cabinet photograph below of people's sketchbooks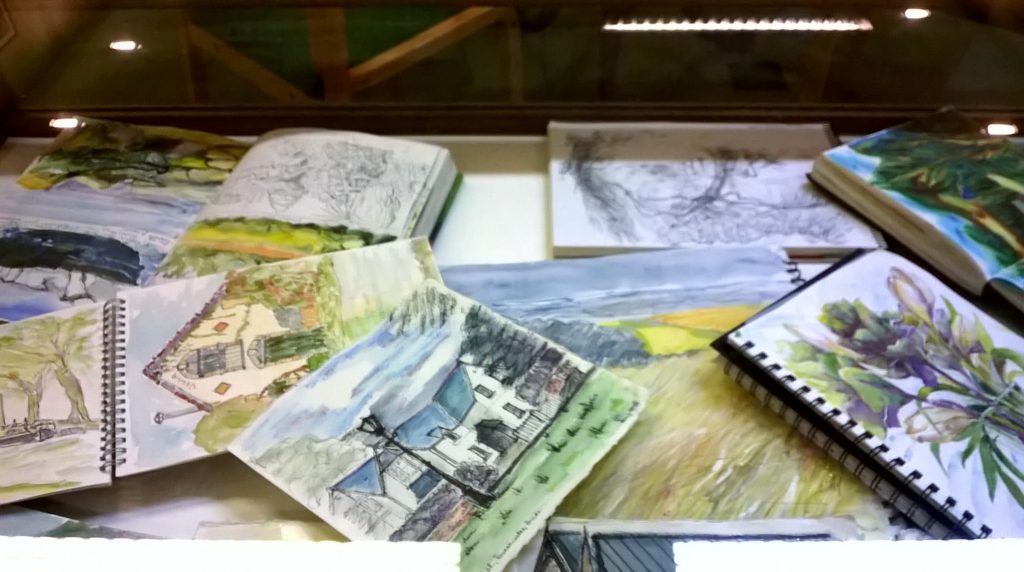 Then to a National Trust property Mompesson House. What a delight to come across a normal sized house open to the public. I contrast this with a place like Chatsworth House which although vast and opulent, cannot relate to us in the same way as a living space for actual human beings. Everything here works on a miniature scale. The volunteer staff are a delight and very enthusiastic about their work of communicating the essence of this essentially private house to the visitor.
I need to add another chapter to my Dumb American theme. I can assure you that if it was any other nationality for example Chinese, Japanese, Norwegian I would have made a comment about them in these columns.
As a prelude, a Canadian man and his wife made themselves known at reception. He was soft-spoken, had a very smart appearance, and was apparently a member of an equivalent organisation in Canada to the National Trust. He was respectful of the property. I noted that trait, and  when he was seated having tea I showed him where the water meadows were using a map that I had. In other words, we had a normal tourist type conversation.
The first American incident was while we were having tea in the National Trust property. A tall lanky American came in, glanced around, and said "Gee I wondered what it was like when you English had tea". He said this in the tone of talking about looking at animals in a zoo without making any eye contact with us.  There were only two tables occupied and the other one was occupied by German couple who were talking quietly enough to each other. I made some inane comment about it not being four o'clock but what I noticed was he came in, made his announcement, and walked out. I call that arrogance.
Number two: We attended the Evensong in the Cathedral with about 150 congregants. It was a joyous and involving celebration which lasted from 5:30 PM until nearly an hour later. Another couple from America came in, sat in the back row with their cameras, and talked to each other during the service admittedly in quiet tones but everyone else was taking in the spirit of the event. Then, the wife walked around with her camera at the back of the Cathedral while the husband got out a map of the area and started looking at it. I became irritated and moved away. I should add that I was also seated towards the back.
I should have said – and may do so in the future if I can be bothered and if I felt it would make any difference at all – "This is a religious place; a service is going on; the least we expect is respect irrespective of your race or religion". The usual arrogant exceptionalist attitude would doubtless have come across, probably involving staring at me with a blank face. I wonder if these people communicate at all or are even capable of it. In matters of dispute they normally threaten to contact their lawyers, such professional creatures being slightly more common than blades of grass.
Anyway, on the the images…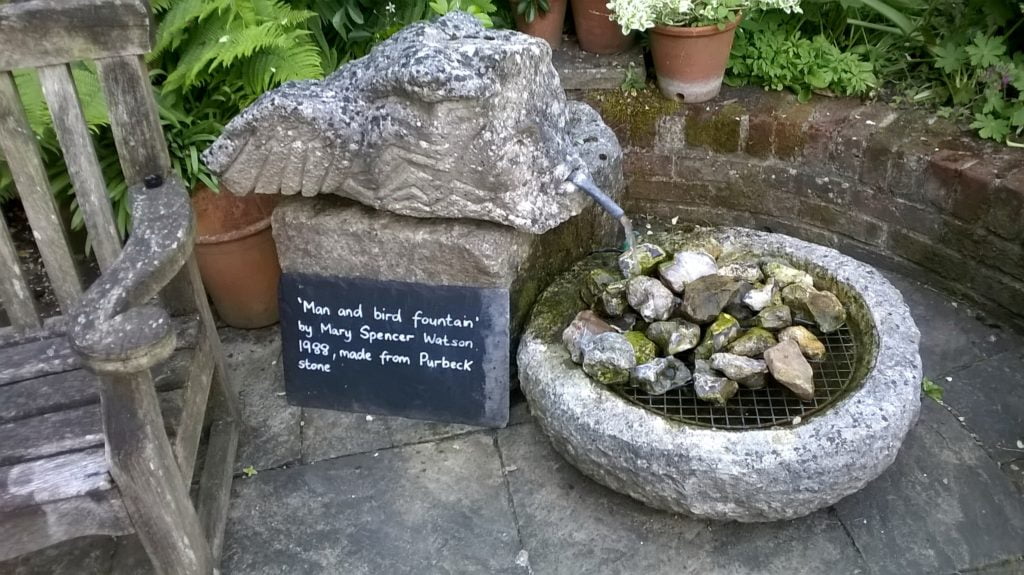 Thirdly some shots of the cathedral which has a good reputation for featuring modern art (above and below).