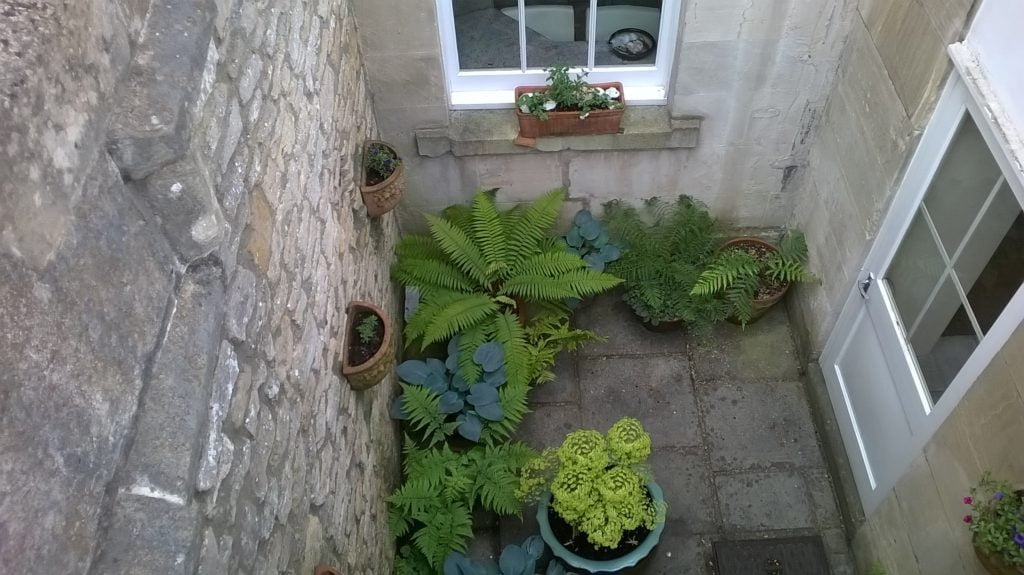 Bath city is pleasant at any time of year but in June the numbers of tourists are not so great and the weather is normally good. Clouds were scudding across the sky and a pleasant breeze blew as I walked around the city. Bath architecture is very distinctive and when walking along the street you might like to have a look at the basements because very often there are little gardens in front of them which are most attractive.
I started off by going to the Victoria Art Gallery. There is normally a very pleasant person taking tickets from people at the entrance to the special exhibition, in this case Bath Society of Artists 112th open exhibition 2017. Today it was Barry's turn and after entering I greeted him and made a comment that smiling photographs were frequently faked and put on, and people with their natural everyday expressions allowed you to get into their soul to a much greater extent and I found this more satisfactory art.
I said to him that sometimes I go into an art gallery but I'm so impressed by one piece of art that I don't need to stay there longer. It does its chemistry on me. Next time I visit, the chemistry is no longer there in the same way but another piece of art attract my attention. I suppose it is the same as reading a poetry book, sometimes a picture just jumps at you that's the one for you. Anyway, I'm going to show you various  pictures from the exhibition which by the way is on until 15 July 2017.
While talking to Barry I decided to make the theme of today's diary "the smile". I suggest that Sir Alan Sugar should never smile. He can't do it  and should never attempt it. Examples of fake smiles below. Worst of all are the mobile phone ads.