Pepys was invited to a venison party, on returning home after a very jolly time did his accounts and found that he had never been so one of four which he praised God. A brief entry but a happy read. Click above.
Chalice well in Glastonbury holds many sacred celebrations over the year. One of them was to celebrate fullness, the flowering of nature, the green earth. The ladies who run chalice well do a very good job of dealing with a disparate group of people who turn up, sit round a well, and want to be spiritually directed without it being too obvious. we were asked to take some deep breaths followed by an outflow of breath, place our hands over our heart and imagine the flame of the heart going well beyond the body to cover the earth. I did this and found an enormously peaceful effect was produced. I realised that my left brain was trying to make necessary things complicated when in fact visualisation is the simplest thing in the world. I thought I could imagine this broadcasting effect 24 /7. I wonder if I can program myself to make this a default mode.
I was standing on an upper level on my own during the ceremony when two ladies came and joined me one of whom was walking with a stick. at the end of the ceremony the officients invited us all to cuddle the person next to us. Now, I'm not the cuddly as person in the world but the two ladies who were standing next to me were up for it and opened their arms to cuddle me. One was a bit shy and just stood there in front of me waiting for me to have her and I was delighted to do so. I commented that it was such a shame that our brain or mine anyway tries to find complicated answers to problems when the methodologies are several, for example visualising. The ladies well understood what I said and one of them mentioned that the difficult challenge is to live in the present, 'that is the biggie'.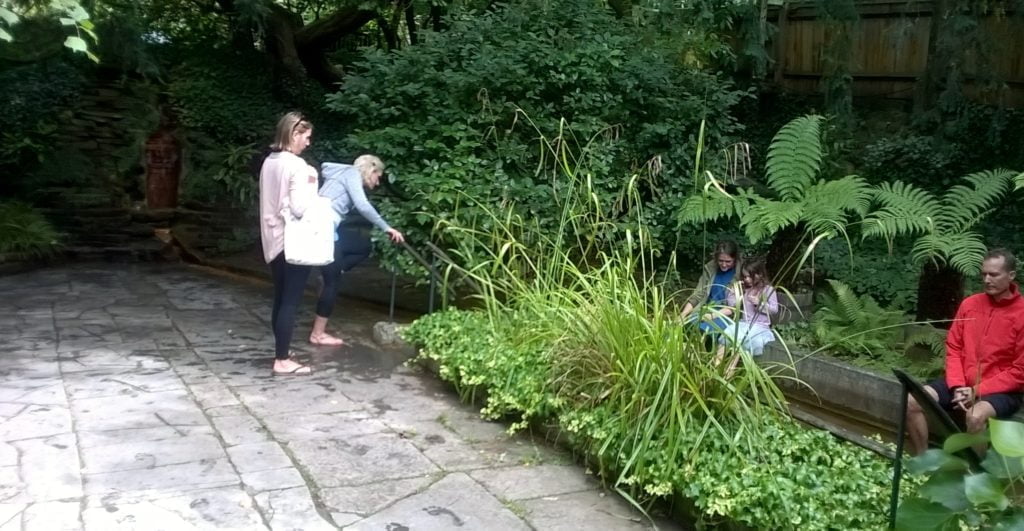 From the spring, there is a small channel where people like to wash their feet and generally sit and contemplate. It is a shaded area which is delightfully cool in hot weather. Here are two pictures. In the first one the chap in the red jersey is sitting with his feet in the water and in the second one people are just relaxing after having had a bath we can say. Here is a movie of the water coming down from the spring.
I then wandered down to the main area and got myself a cheese roll. Absolutely everyone is in the social mood and I feel as I have said before that this is how the world should be. You should be able to go up to anyone and talk to them.
I am going to show you a lot of images of Glastonbury in season so to avoid making this page impossibly long I'm going to do a part two of the diary called, amazingly enough, a day in Glastonbury part two.