*a tribute to Leslie Nielsen
So, I continue my walk. I should add that everything in the day was unscripted, apart from the film. I find that if you are in 'The Zone' you meet the right things and the right people as if by magic.
On a corner there is gallery space that is rented out to various organizations. This week it was the turn of Creativity Works. Very clever double meaning. I love the English language. The venture works with people who could 'use more creativity in their lives' with emphasis on those experiencing mental health problems. Well done people.  I met the organiser, Philippa, and we chatted on about the exhibition. The quality of the work did not seem to be like that produced by disadvantaged people. Putting it another way, if you had told me the 'client group' I would have had difficulty in believing it. How's that for prejudice? Herewith some examples:
The artist was there, a diminutive lady who was born in Austria. She has lived in Bath for six years and discovered an organisation '"Art for Hearts Sake" which helps build creative confidence. Check their web site.   Inga's interest in heads evolved from her passion for sci-fi films and comics. In her imagination as a child she would give people Alien heads of assorted shapes and colours, adhered with strange and odd things. We had a lovely chat and I think I will buy one of her works.  I discussed the similarity between writing as an art form, and fine art itself. I said that people do not believe they can write because they have never tried. I say, sit in front of a computer and type a sentence and then another will follow. She said she starts her work by drawing an eye or a mouth and the rest follows.
Here are more works from the  gallery show:
Tomorrow Wednesday 11 October there is  morning workshop entitled 'Story Making and Walking – making it up as you go along'. It is free of charge. I am going. Watch this space.
*****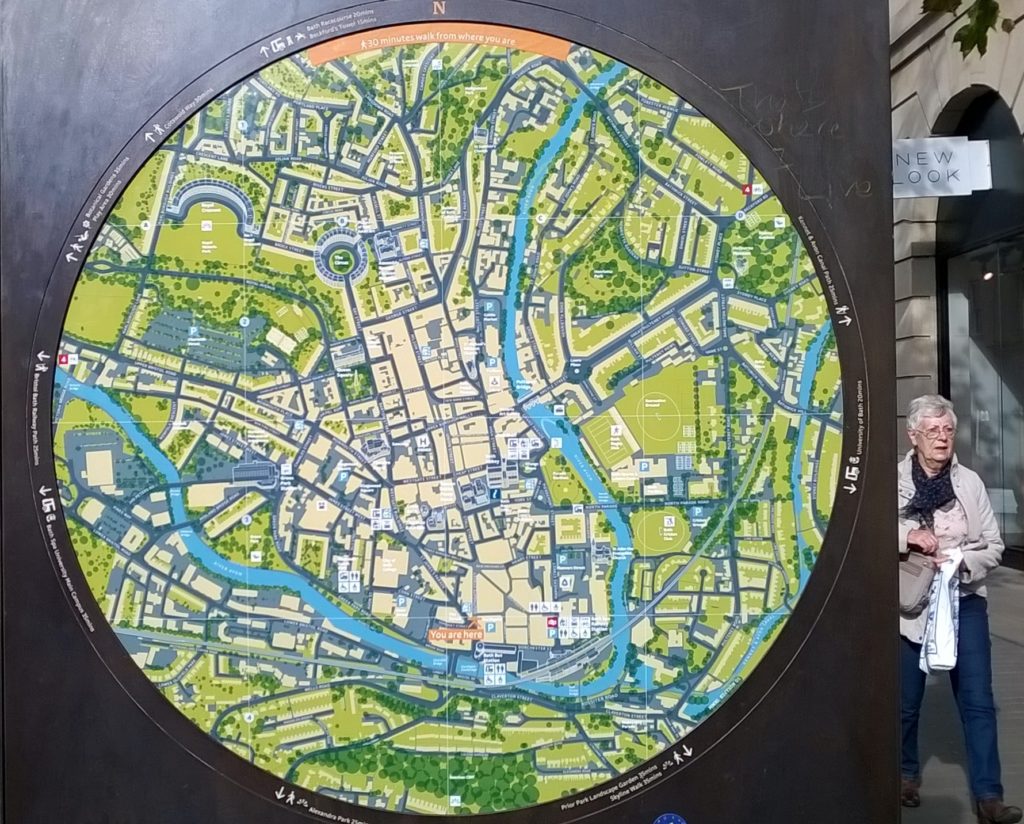 Back to street-level again. NB Visitors to Bath will find it difficult to get lost. There are friendly maps all over the place. The last part of the day relates to an exhibition on trees. That will have to wait.
I saw a tourist struggling with an out of date map. I always stop and help people if I possibly can. He said 'I am trying to find a place to have a cup of tea'. He said it better than an English person but with a foreign accent. I have a confession. I 'collect' accents. I pride myself on having a good stab at foreign accents though eastern European accents still confuse me.  Easy accents are Australian (be careful not to upset New Zealanders), German, Polish, Irish, American, South African. This chap's was Swiss. Their sentences have a lilt at the end which you have to listen out for. My webmaster is also Swiss so I am used to the accent. I said 'ah you are Swiss'. He beamed and said that I was the first Brit who had correctly discerned his mother tongue.
It is even worse for my other half. Local people, or people who have not traveled far from Somerset, cannot hear her French accent whereas in London when we go there, everyone can detect it instantly. Francoise now refuses to tell people where she is from. They have to guess.
*****
My final port of call is the BRLSI, or the Bath Royal Literary and Scientific Institution. This is a splendid centre for good quality lectures and occasions. Here there is currently an event in the downstairs lobby "The Amazing World of Trees" which is an exhibition of the work of the Bath Society of Botanical Artists. What lovely delicate work they produce.
Trees have so many functions. The absorb carbon dioxide – the lungs of the planet if you will, they can reduce noise pollution almost as well as a stone wall, they are a renewable resource with many applications in everyday life, they produce useful medicines, they prevent soil erosion and can absorb and concert noxious chemicals – apart from being a habitat for wildlife. It is notable that dystopian futuristic films have landscapes without trees.
This exhibit gives me a chance to indulge my obsession with tree rings. I always count them especially in the case of freshly cut wood.
There was an interesting lecture at the Institute this evening this evening on anger  but I did not want to sit around for another 90 minutes so back to the park and ride service. Visitors to Bath should note that the parking in the city is adequate but expensive. I also find some of the car parks limited in space and if you hate reversing in confined spaces like I do you may want to use the ParkandRide
On that note, to my house, supper and to bed. (no prayers like Samuel P)