My faithful TomTom GPS has seldom let me down traveling in Australia, Sri Lanka, South Africa, parts of Europe, Ireland but in this fairly remote corner of Somerset it met its match. But more of that later.
Today we decided on a real break from the exigencies of everyday life and decided to go to one of the largest car boot sales in the UK, the Cheddar car boot . I have written about it before but every time I want to say something different. When we arrived about 10:30, all the car parks book full as was the first auxiliary car park. Those that have not been there before have no idea of the scope and size of this event . You can get more or less anything you want including antiques, vegetables, all manner of children's toys, second-hand clothes, a variety of tools that would make the average engineer stare in amazement and a variety of power tools that may or may not work.  If you're thinking of buying any sort of power tool, ask the person when they last had it working. Do not buy if you see rust because it means that it's been left around forever.
This picture does not give an idea of the huge number of stalls a raid on a field. If I tell you that if you walk up and down the aisles without stopping it will take you about 50 minutes that will give you some idea. It is very noticeable how many Polish and Russian people attend. You get absolutely every type of person with all levels of income coming along because you can get bargains for upwards of £0.20 especially when stallholders don't want to take the stuff away with them again.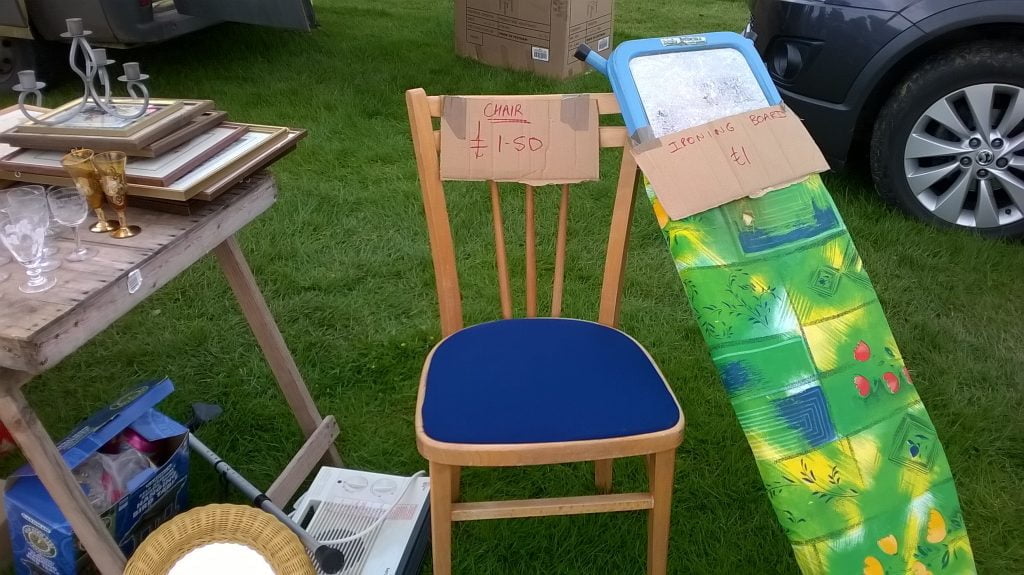 It was good to be told what these objects were (mild sarcasm here) but never say to yourself that you're not going to buy something because inevitably you will. Francoise bought a wonderful cooking book for £2, I bought some offcuts of bacon for £1.50 and a huge wedge of cheese for £1 which was delicious. We always go to our favourite stand run by an old lady selling marmalade which is always of brilliant quality and we watched the amazing selling ability of the man in a huge lorry converted into a meat sales counter cum refrigerator. He piles item on item, put a chicken on for good measure, and says "who will give me £20 for that". Chinese and Indian takeaway owners love him. Francoise turned up at our rendezvous point with a trampoline, very ruggedly made and in good condition for £2.
Off we went to our next port of call which is the local garden centre just down the road BS27 3RU. I noticed an extra feature today, there was a group raising money for R S P B the Royal Society for the protection of birds and the children were given a chance to hold an eagle. I suppose if you attract children, you attract parents with the money.
We then went off to the Cider barn, my favourite leisure time drinking 'establishment of all time 'where if you are abused when you come in the door that is the sign that you are welcome as a customer.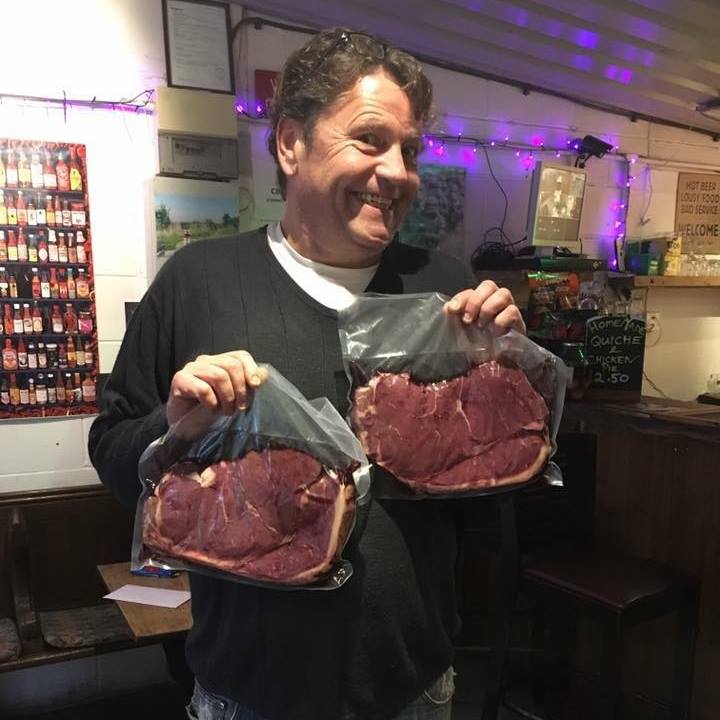 One of the staff, Jason, (this is his colleague pictured)  warned the other member of staff that I was a troublemaker and should be watched. That means that I have been accepted. They do the most wonderful local raw ciders and be not deceived by the fact that it is rhubarb cider, after the second pint you will tend to see two of everything.
It would appear that Jason the manager works seven-day week and how it does it I don't know but everybody loves him and it gets wonderful reviews from trip advisor and Facebook, link to the latter here.
Finally, off we go to Wookey Farm Open Day, a Dairy Goat Form, farm shop and eco-site with camping all rolled into one. It is now that my image on the top of this diary becomes relevant.  I did not even set my GPS to the shortest route which normally takes us on the highways and byways particularly the latter. We drove so close to the place that we could see it and there was a ford. This was a sizeable stream which chose to run along the road for about 40 m. I would say the average depth was 2 feet with some nice chunky rocks standing out here and there. My Volvo is a chunky piece of kit that I did not particularly want the bottom torn open by a fine piece of Somerset stone. We had to make a detour of about 4 miles.
When we arrived, all was forgiven. Here were an entirely different set people, young children utterly un-spoilt by the inhibitions of city life, concerned and caring parents, home-made cakes that was so popular that they almost ran out when we arrived at about 2 PM. I will show you some pictures of goats. The children were allowed to walk around with the young goats on a lead.  I met a young man who was responsible for all the recycling of plastic at the Glastonbury Festival and we talked a lot about the illuminati and I was able to discuss the difference between dark light, and the light of love. My remarks were met with interest. He recommended I buy a book by Alan Moore in three volumes called Jerusalem. One volume is about 700 pages so I see there is an audio version which I can tell you must've been a labour of love for three volumes. anyway, I'm going to do a photographic exhibition now; most of the pictures speak for themselves.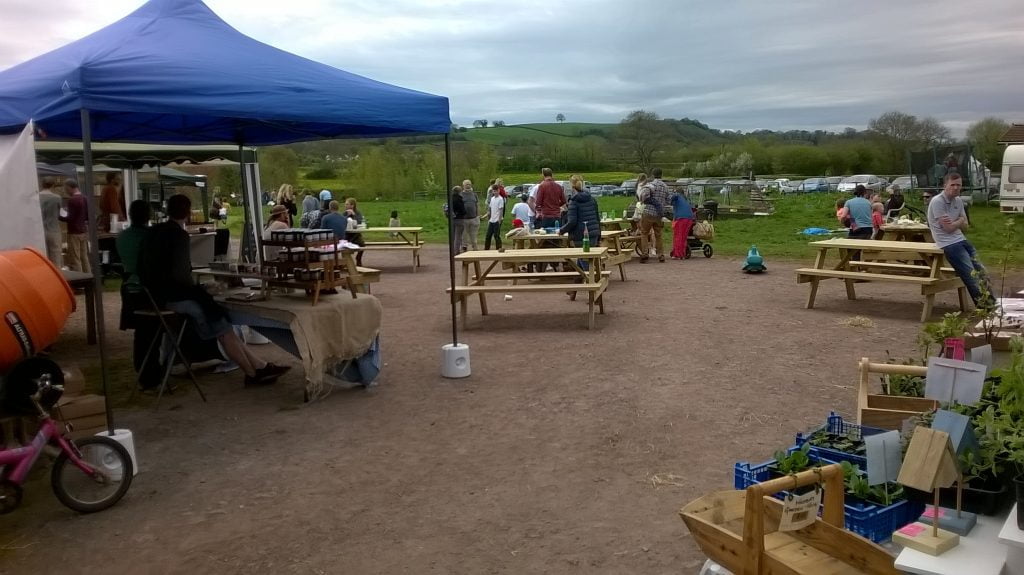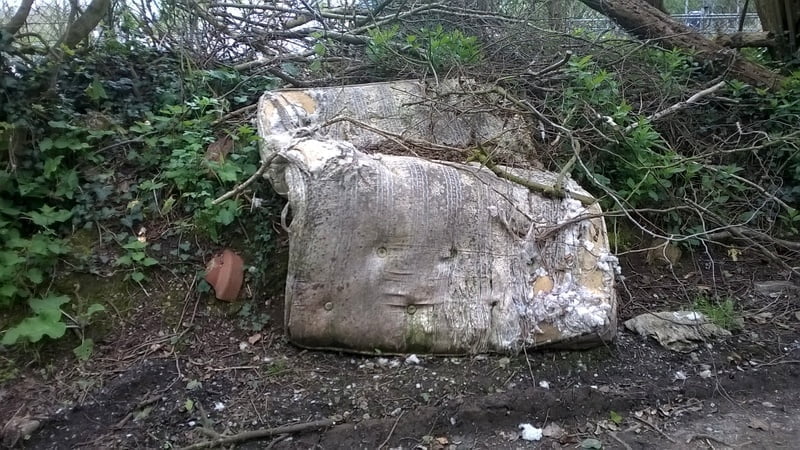 So I thought I'd just leave you on a high note. It is so lovely to be with real human beings, and not one mobile phone did I see being used.
I am a member of a prayer group whose headquarters is in the south of France. I decided to offer my service for free psychic readings to them and the organiser of the group forwarded my offer letter to everybody without any amendments. This evening I had my first request. I know that psychic readings of foreign objects to most people but if you really want to torture yourself with your comfort zone do visit my site.