In case you didn't know, Beltane is the annual May Day Festival. It is about halfway between the spring equinox and the summer solstice. Historically, it was widely observed throughout Ireland, Scotland and the Isle of Man.
As you will see from the many images I have enclosed, Glastonbury knows how to celebrate its ancient 'important days' of the year. We had the usual midday celebration which was sparsely attended but later I realised why. There was a major procession of about 200 people all dressed up especially the women. The procession started at the top of the high Street through Chalice Well and then up the hill to a field where we had the official celebrations. I hope this 10 minute clip gives some idea of the joy and spontaneity of worshiping the Earth, giving respect to the four quadrants, and acknowledging mother nature
If you would like to see a video of the whole event, click here. Here are a few more pictures, hopefully self-explanatory. The first one below I saw on the way to the event. This museum has been renovated by courtesy of the National Lotto  but they still have to work to get people so this is the latest effort. The lettering of "museum unlimited" is very weak and does not stand out particularly in less than bright weather but hopefully people will take the time to study it.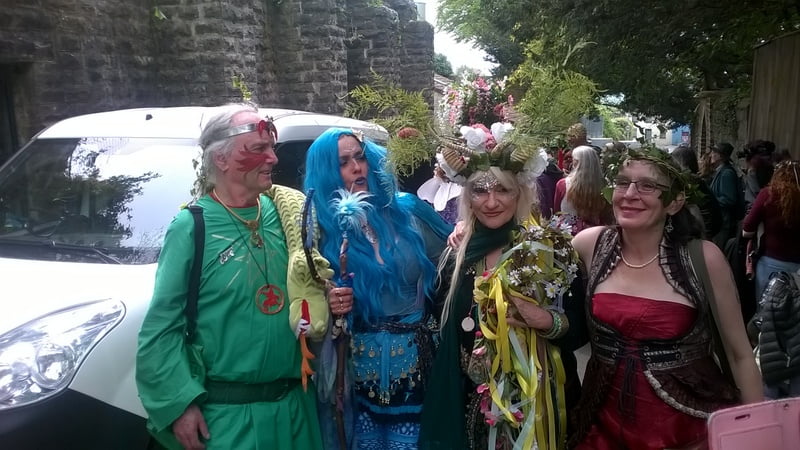 These sort of occasions provide an atmosphere of trust and communality where anyone can speak to anyone else and so long as there is a smile and a pleasant comment, people will respond. I had too many conversations to count but one was with three women from upstate New York who were not trying to do Europe in seven days but decided to stay in Wells and Glastonbury for a week to absorb the atmosphere. Well done them.
On two or three occasions I passed a chap who has the most lovely smile and when Francoise and I sat down for our lunch on the bench in the centre of Glastonbury lo and behold, there he was sitting on one of the seats. We fell into conversation. It appears that he has moved from somewhere in the Midlands to Glastonbury where he has been resident for the last two years and does "many things".
I did not ask him what those "many things" were. Sometimes it's better not to ask and just accept a person as they are. A lot of people passed him and greeted him by name. We discussed the importance of making contact and smiling to strangers and how this can making enormous difference to people's day. He said he loved it in Glastonbury and it was absolutely perfect for him. I said that I knew a person from the Caribbean who smiled so much that he smile entered the room before he did and I thought that was the pinnacle of achievement, creating an atmosphere in advance.
I met another chap this time who had been in London campaigning with regard to the recent Extinction Rebellion. I decided not to take sides but pointed out that without carbon dioxide we would all be dead. He commented that the last round of protests in London had not achieved much especially with the government so he was planning to go back to London to take part in more activities. I wonder how this is being funded. Probably George Soros. Movements do not arise out of nowhere without reason. Expecting reaction from the government is a bit like expecting the day to rise what with the current confusion and nonsense of Brexit.
I cannot say what a pleasure it is to see women secure in their own identity, happy and positive, greeting anyone including any passing men without any hesitation, without putting the guards up as so many people do. I've written about this before but I find such women exciting, exhilarating, particularly those who believe in the goddess and mother nature. Many of the Jordan Peterson female haters in his public audience are like wasps. They have I believe a combination of two factors; a complete lack of humour and a hatred towards all men. This can only be because they have not forgiven a man be that their father or a boyfriend who has abused them in some way. I would say to these people, "can you find it in your heart to forgive?". Forgiveness should be applied both yourself and to others. We all possess male and female within this and if we don't like ourselves how on earth can we like other people?
It is said that women were abused in the past. Excuse me, everyone was abused in the past. Read about torture in the Middle Ages. If a man abuses a woman he himself is demeaned so isn't it time to bury the past, fall in love and marry yourself, and the rest is easy.
We popped into one of the new-age shops and bought a quartz crystal. It is currently sitting outside in our lawn getting used to its surroundings. Some regard quartz as a time tunnel; others as a message centre; others as a healer. I just felt I should buy one.
We had spent a couple of hours or so at the celebrations so after that and having had lunch we ran out of energy and did not make our usual trip to the Goddess Centre so off we floated home via a trip to Aldi in Shepton Mallet.
Tomorrow, Thursday, we have a new carpet arriving in our living room so we had to clear everything out including emptying bookshelves, I'm going to have two sort out the mass of wires that come out of the back of the hi-fi system.
What a complete bore but then you have to dust everything which I suppose is good and the room will look nicer afterwards.