Off to meet my sister and brother-in-law for lunch in the cloisters of Southwark Cathedral. This building is situated only a few yards from London Bridge station and has a railway running within yards of the edifice.  In one of the side streets we saw a notice which gives some indication of the vibrant social and cultural life that can be sustained by an articulate, multicultural population.
As we had some time to kill before the meeting, we decided to go round Borough Market. This establishment is very popular with tourists and locals alike and features some of the very best quality niche food producers in London. Warning – you could easily spend £100 without blinking.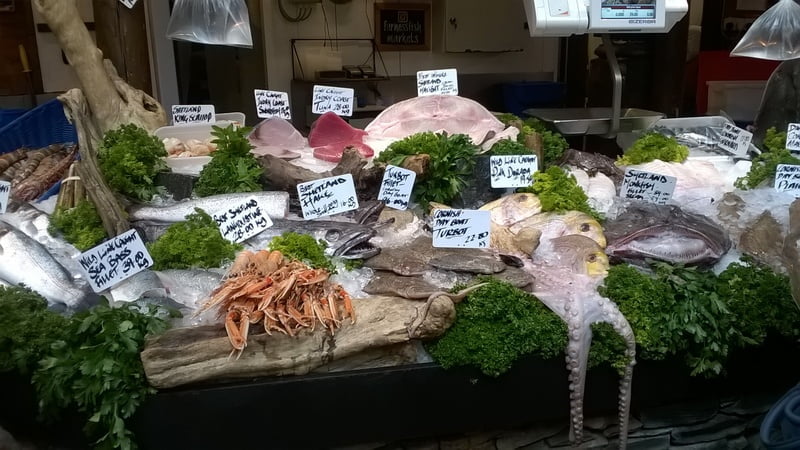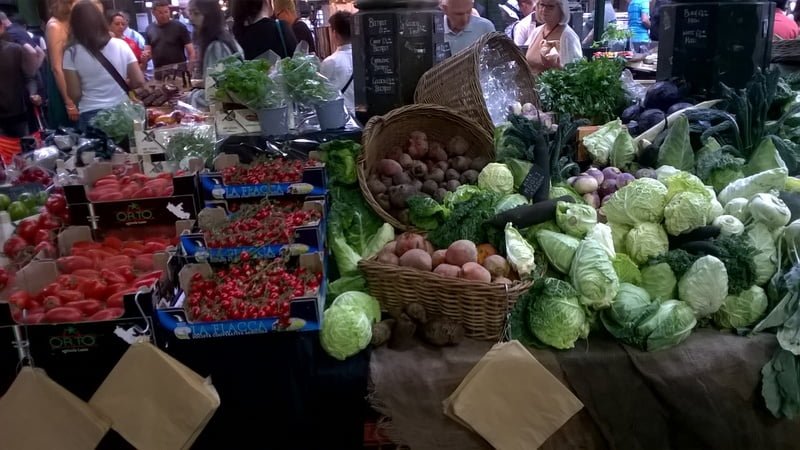 Hampstead Heath is an extraordinary historical anomaly. It is a 790 acre area of woodland the midst of a densely populated city which contains a surprising number of ponds and lakes – 30 in number – some which are used for swimming. Many of the Heath's springs and ponds were created in the 1500s on the back of the London Conduit Act.  One of these, the most low-profile, is the ladies only pond which is open from 7 AM to 8:30 PM daylight hours permitting.
It has a large clientele for women who apparently feel safer and more comfortable swimming without the attentions of men. Francoise went along and had a lovely swim  in the surprisingly warm water. It is not a swimming bath or pool in the normal sense of the word – it has a mud bottom and is probably more suitable for those who are good swimmers.
On our way back to our base we visited the well-known observation point
where busy London can clearly be seen. The picture above is taken looking south. I do recommend that all visitors to London take a few hours from their schedule, and have a look at the 'country within a city'. London is very lucky to have a good proportion of greenery and like Paris for example when it is very difficult to find enough green space to go for a decent walk.
*****
To an old friend of Francoise. She lives in a small second-floor flat adjacent to a railway line and about 50 m from Camden high Street. A number of years ago she had the foresight to buy a small secret garden which is a safe paradise for a child – actually her grandchild – that she has adopted because the mother and father were both incompetent. She has a heart of gold, huge empathy, and delight to be with.