We felt that today was the day for getting out and about, so what better place to start than a harvest flower celebration which Church of England churches do very well. People do not realise what a lot of effort goes into to the whole thing. The church concerned was St. Giles of Leigh on Mendip.
This church is in remarkably good order considering it was built in the 12th century. It has been renovated thanks to generous amounts of English Heritage and National lottery money. We are visiting a three-day event with the theme "what a wonderful world". A more apt antidote to the misery that is going on I cannot think of so please come with me through the displays.
I want to call this one "small is beautiful"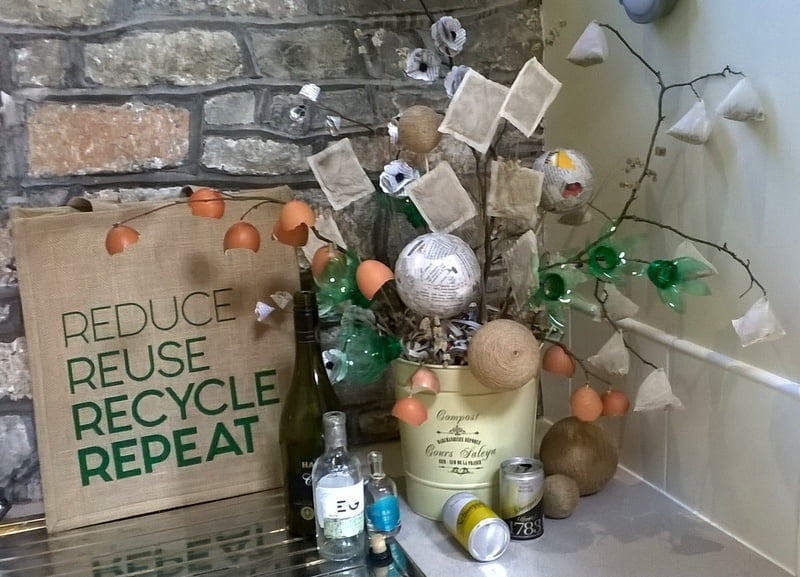 Look carefully at this one. This work is made out of cost of plastic, paper, eggshells, other items that would go into the bin without a second thought.
I was particularly struck by the thoughtfulness of the words, almost amounting to poetry.
I find this almost alive and note how the backdrop has enhanced it.
Surely, a very good plug for having an allotment.
A lovely tapestry in the church hall.
An artwork made out of local and from 16th, 17th 18th & 19 th century – archaeology sites in & around the village.
This was a lovely church environment, comprising the church and the church hall. This has been extant for seven centuries; you cannot fake a feeling of history and indeed of peace.
If I continue this diary it will be such a long page that you would find it inconvenient to scroll down so now I'm going to cover my trip to Wells in what will be part two of this diary.