Today we had nothing much to do and the weather was favourable so we decided to go on a bus tour of the area, Bath via Frome, starting with a breakfast at Wetherspoon's. The best time to go is 10:30 in the morning after the breakfast rush hour and before the lunch. We are used to spotting the regulars. There is one particular woman who always has a half pint glass in her hand. I'm not sure if she even bothers with breakfast. She is there every day. Wetherspoon's supports a variety of lifestyles I must say.
There is a bus to Frome every hour or so which picks up at the small villages along the way. But in spite of that it delivers us to that town in about 50 min and we being pensioners don't pay anything.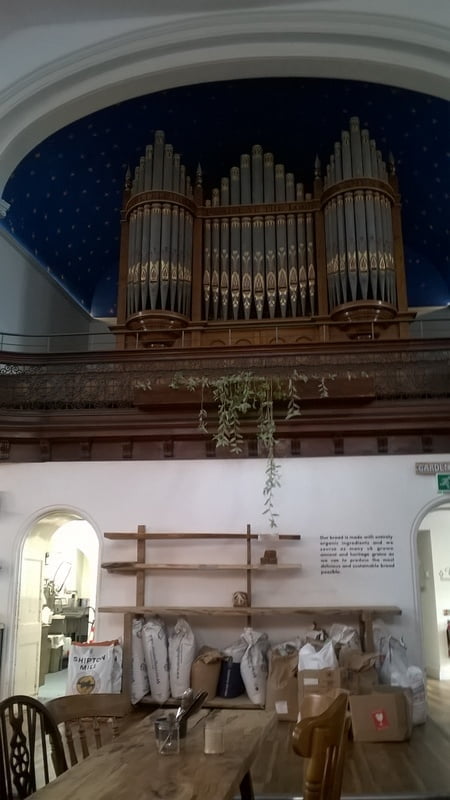 A disused church has been converted into a bakery. The acoustics are perfect for conversation, not overwhelming, very friendly to young children and presided over by a very cool gang of young people who deliver superb bread as well as coffee, croissants and cakes.
Standing at the servery is one of the local characters which this small but trendy town has plenty. I had a pain aux raisins with a rather small latte.
Off to the town centre, here is a small sample of the delightful traditional or should we say trendy or retro material.
And so to a second-hand charity shop run by the Rotary club. They do a huge amount of good work throughout the world and I only realised this when I saw two of their posters, below. The club rent out the space and give it over to various groups on a week by week basis. The stock in the premises is contributed by customers coming in the door, but also by the Rotary Club itself.  The idea is that in return for manning the shop the charity gets all the income from the people for its own funds. Those who are aware of the difficulties of managing volunteers will see the elegant simplicity of this scheme.
This week, the volunteers were from Open storytellers activities. They work with "physically and emotionally disadvantaged people, those who are marginalised because of learning and communication difficulties. They do this through varied work around telling and sharing stories, including personal narrative as well as classic stories using a collaborative approach based on 15 years of specialist research and innovative practice.
Their fundamental principle involves telling stories with people rather than to them using a collaborative approach that maximises personal engagement and ensures that individual abilities and needs are recognised and supported". Further details of the organisation are here.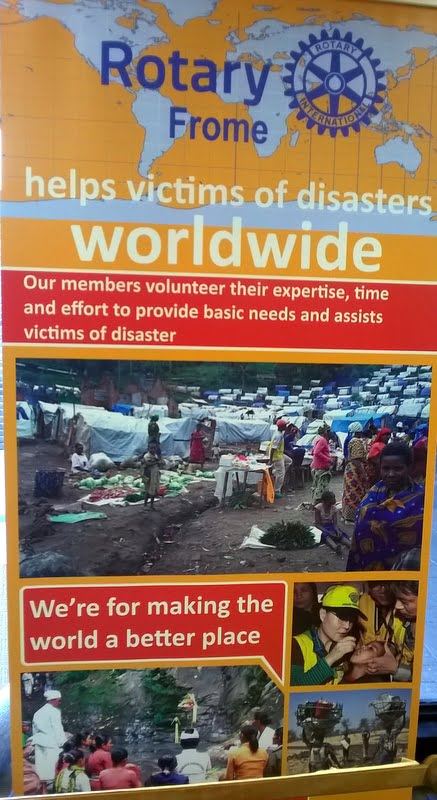 .               Suitably impressed, we continued our wander round the town.
Anyway, a very satisfactory visit so now we hop on the bus to Bath, again a delightful country drive.  I have written about Bath so many times but I merely mention that at the city Art Gallery there is an exhibition entitled "before, during, and after the Second World War" displaying various harrowing and haunting images portrayed by artists.