The day opened on a pleasant note. During my work of yesterday my Bosch 800 W hedge cutter failed. It was within its guarantee period so I searched in vain for the invoice not realising that the whole thing was conducted electronically. I called the helpline last night at 8 PM, and this on a Sunday evening, to have a bright and cheery voice give me the right number to call –  after having identified that I was a genuine customer.
This morning at 8:30 I rang the number, was told to pack the offending item up and print the label that was e-mailed to me. Tomorrow it's going to be picked up by FedEx and returned as soon as possible with a maximum delay of 10 working days. There is no question that Bosch is a well-managed company. Attitudes percolate from the top to the bottom so I can tell quite a lot about the management from how the telephone support staff behave and my morning was much cheered by this.
Today is the celebration of the autumn equinox and for us, the only place to go to is Chalice Well in Glastonbury. For a change, there were not that many people which was a relief. At the midday ceremony the celebrant spoke about the importance of balancing ourselves, not only between us and other people but also between our chakras or energy centres. She spoke with conviction and for the first time on one of these occasions there was a round of applause.
This was the scene just before the 12 celebration with a number of people sitting around the fire. There is always a fire irrespective of the temperature. I noticed the lady in purple sitting opposite us and how awkward she seemed to be. I wonder whether she had got her outfit just for this occasion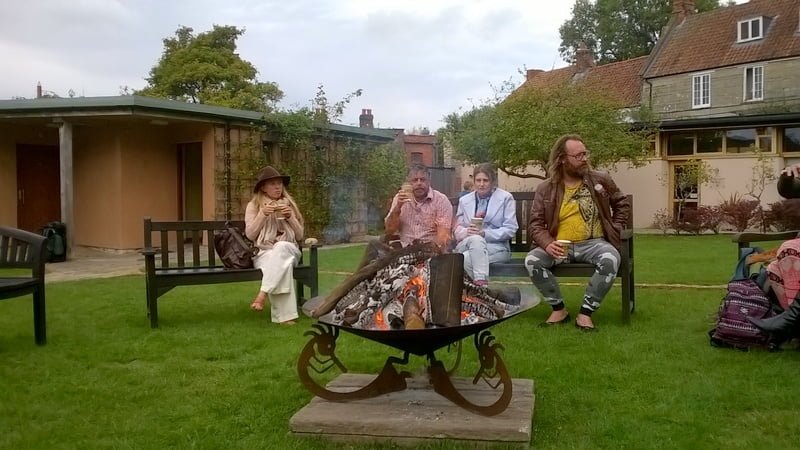 Glastonbury is a town like none other. And this was a challenge question posed in a perfectly ordinary house in one of the side streets. What are indeed we doing?
This was a lovely design for the season using coloured sand, wheat and berries which was sitting in the front window of one of the shops
Our time today was somewhat truncated because the weather decided to turn against us, in other words, it was raining, but we did our usual circuit of health food shop, Burns the Bread, various second-hand charity shops, a visit to the Goddess Temple if we have time (it was not possible), and then back home where we sat with our friends over coffee and chatted about the world in general.
Earlier in the day, I had completed the garden that I started yesterday on Sunday. It is very unusual for me to want to work on Sunday but I realised that I had two weeks left until I can work no longer the because I will be having my operation. When the time is right, I find that I draw my energy from nature automatically and we made a very productive effort to complete a job. We are always aware of the atmosphere of a garden and this one had a wonderful ambience which enabled us to work better.
Okay, this is a before and after on what was a very pretty garden if a little narrow but it was allowed to go into bad order prior to being rented. The new tenant was worried that he would get a large bill at the end of the tenancy if it was not in good order so this is our chance to step in and fix everything.
This is the end of the garden nearest the house. I did not take the 'before' picture but if you can imagine weeds between all the paving stones this will give you some idea.
I have told the tenant that I think it will make an excellent venue for a barbecue or a drinks party or just sitting drinking coffee on a balmy weekend afternoon.