To Coleford  to have my car examined for a possible  electrical fault. Coleford is at first glance a quiet village but on closer inspection it is quite clear that there is far more going on than you would think from the two main streets that make up this conurbation.  This is confirmed by a check with FB. (Coleford, Somerset) The population is about 2500. There is a very fine and imposing Royal British Legion building where I'm sure a lot of different activities go on.
As my regular readers will know, I take an interest in the local noticeboards as an indication of the level of social activity. The layout below is rather casual with a mixture of local maps, bus timetables, various events going on or passed. I guess it is 'self service'.
A notice in the bottom right corner caught my attention and informed us about a grant system that has been in operation in Midsomer Norton for some time. I find it encouraging that such opportunities are given.
The local neighbourhood Cooperative Society seems to have more traffic through it then most other places. Mind you, there is hardly much competition or should I say that the village cannot support too many establishments like this. I felt a friendliness as soon as I walked in.
Outside the Royal British Legion building.
I have a fault in my ABS system which means that a pump must be stripped down and replaced. It will take 3 to 4 days and cost about £300 altogether. Helpfully there are courtesy cars provided.
*****
To the hospital in Bath to have my stomach scanned. My appointment was for 3:30 PM. I arrived 3:06 and told them that I was early, as if they needed to know. I was told to sit around the corner on the green chairs. 30 seconds after I sat down I was called in and had my examination straightaway. That must be the world record for the shortest wait ever – in the National Health Service anyway.
I rather cynically thought to myself the perhaps the previous people had not turned up. I know the rates of no shows cost the NHS a lot of money. Evidently I have polyps which are growing and the recommendation was that I have my gall bladder removed. I must talk to the doctor about that. I don't like things being taken out. Everything has a purpose surely.
As you may well know, I take great interest in the nature of advertisements and art works in the hospital. Visiting the whole is quite an artistic experience for me and I show some examples below.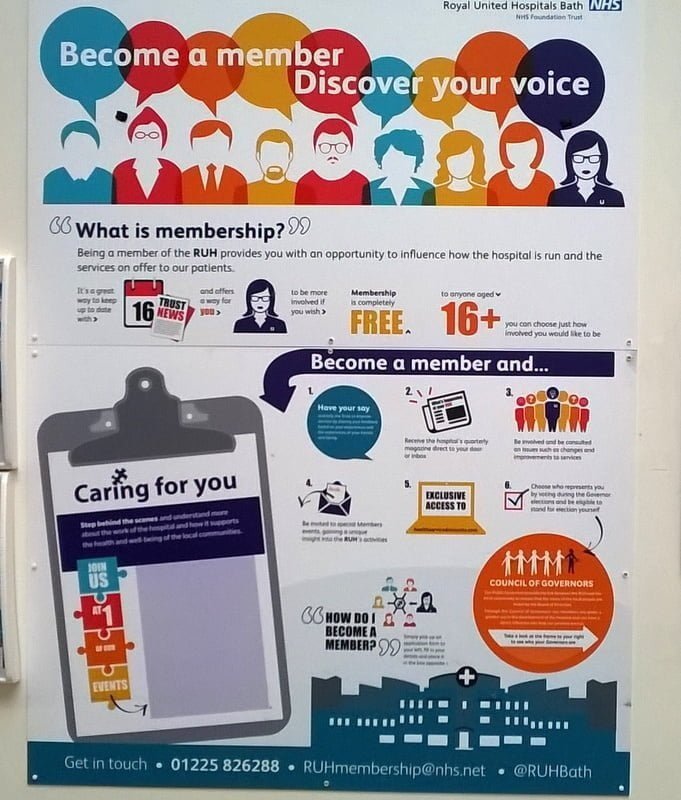 And now an art work liberally distributed along the corridors.
an art installation 'For the next 24 hours 2017'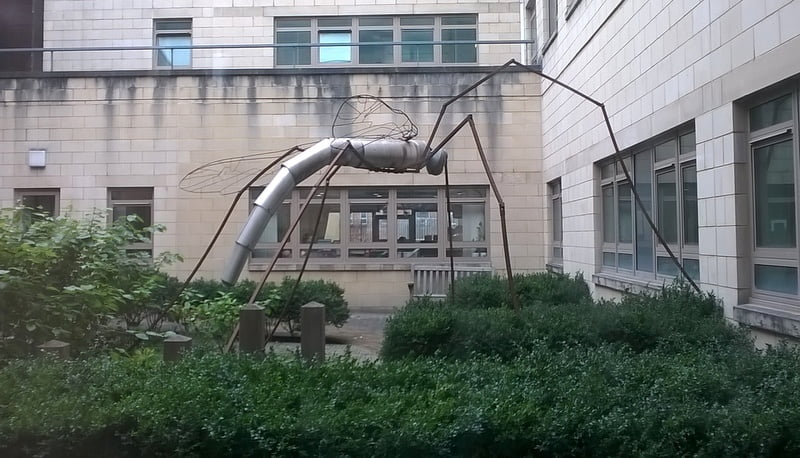 The number four local bus goes from Western to Odd Down via the RUH hospital and the city centre. We all assembled together to wait at the bus stop in the hospital arena and the bus arrived. The driver got out of the bus, and in a stentorian voice told us 'this bus does go via the centre'. We all got the joke immediately because clearly he has been asked so many times –  everyone complied.
I met my wife in central Bath after the appointment hoping to walk around and enjoy the scenery but it started to rain so we went home by bus and I was able to have a hearty meal after the enforced starvation for the exam. 'nothing to eat or drink for six hours before'