I bet you anything you like you would not dream of what I'm going to reveal but first, my day.   I went along to the normal coffee morning at Paulton church.  Eventually there were about 20 of us and among them were a retired Church of England vicar and his wife.  I heard him mentioning that he had brought along some books for the book exchange and we started chatting about books that he himself had published.  He is very interested in books for children, getting the message of the gospel across in a way that will not put people off so he uses parables and stories to great effect.
We discussed the merits of self publishing, imprint publishing where you link yourself to a known publishing house and full on acceptance by a well-known house with all the distribution and publicity implied. He started to write these type of books after he retired so far as I can gather about  eight years ago.  For once I was glad to sit down and talk. (For some reason, my energies are not what they should be and I had to cancel a consultation that was to have taken place in Bath on Thursday but I think unless you are up to speed there is no point in spending money on interventions such as therapy).  Anyway, I invited the vicar and his wife to the Book Barn, Hallatrow,  as he is such a bibliophile that I think would enjoy a visit.  I found it strange that he had never been there as its reputation is worldwide but he does live in Keynsham and you would not necessarily want to visit this establishment in your normal daily course of duty.
My wonderful Alan, who does all my tree work, came along today and trimmed the three trees on the front of our bungalow. They had not been pruned for seven years but look halfway decent now.  He was telling me that two weekends ago his van was broken into and tools worth 2000 pounds were stolen.  Worse than that, he knows who the culprit is, a very nasty men in the area, and Alan is afraid of going to the police because there might be reprisals.  He is not insured. He has never been insured.   Insurance costs 1200 pounds a year to take out the right insurance and this is the first break-in he has had in 18 years so over all he is up at the end of the day.  Very sad to say that as a reflection on the society in which we live.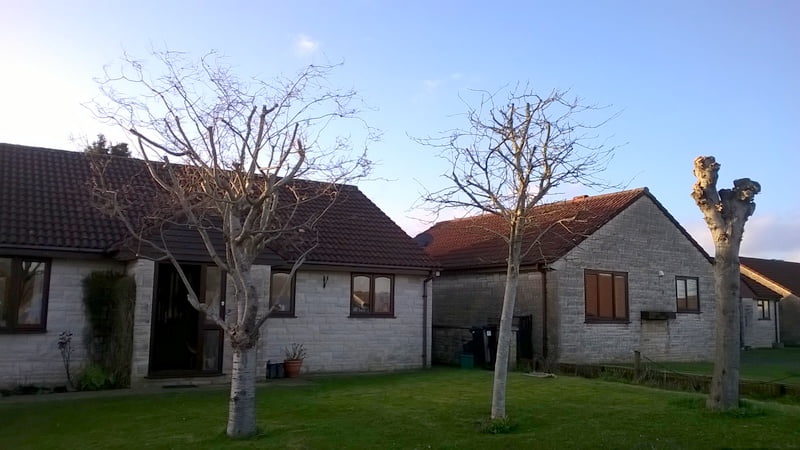 *****
Well, blow me down with a feather, you are aware of the corona virus which is threatening to cause havoc throughout the world.  I mentioned a video yesterday which showed that the virus is mainly lethal in combination with ingredients of vaccinations that had been previously given to the clients.  The technical aspect is given out on my last video but this one will amaze you even more.  The virus was made in Pirbright, Surrey, UK.
"CORONAVIRUS TRACED TO THE BRITISH CROWN
The Pirbright Institute (UK) has been awarded 11 U.S. Patents, including Coronavirus U.S. Pat. No. 10,130,701
The Pirbright Institute is controlled by the Queen's Golden Share along with SERCO and QinetiQ (pron. kinetic)
Pirbright's controllers track back to SERCO, QinetiQ & Sir Geoffrey E. Pattie, Chairman Marconi and the British Intellectual Property Institute
Outrageously, British SERCO—today runs the U.S. Patent Office (proof below), U.S. FEMA Region 04, and Zone 02, websites for U.S. Obamacare, OPM, GSA and U.S. Navy SPAWAR, Virginia, New York, 63 U.S. city air traffic controllers, and more…"
if you don't believe me, read the original website. I really do wonder where this evil will end if indeed it will. Oh and there are contradictory claims for example that this patent (U.S. Pat. No. 10,130,701) is for only part of the virus but if you look at the funders……
Oh and one very brave person who has lost everything for what she believes in. Katy Kopkins speaks.