You may or may not do that I do remote psychic readings on the telephone and by e-mail.  I spoke with a lady who had been abused by her husband who left.  Her two sons adverts the habit and one of them beat her up physically.  One of them is in a mental institution and the other one lives with her.  She told me a story which I found quite shocking.  When the son was taken into care the social services took all his money.  However, the son complained to them that his mother had stolen money from him. They believed him and did not believe his mother and in addition they wrote four letters to neighbours warning that my client was a thief.  It seems that social services can get away with anything. And yet, she didn't hold any hatred in her heart and felt that angels were guiding her.  Now that is what I call character.
Boris Johnson, our Prime Minister, is acting on rubbish statistics given by Imperial College.  They said that the computer model projected that the number of deaths in the UK would be 50,000, then revised down to 20,000, then revised down to 10,000, and then revised down to 570.  Neil Ferguson the lead researcher at Imperial is funded by the Bill and Melinda Gates Foundation, with no interests in vaccines or eugenics. In spite of this, he tells us not go outside in the sun so I'm going outside in the sun this time to plant potatoes. We planted three rows.
I spoke to a couple of the allotmenteers to ask them what time period on a Saturday they would prefer to have a potluck barbecue or gathering.  I noticed that one or two of them were afflicted by a real fear, they jumped viscerally when I approach them even though I was outside the magic six-foot rule.  It is quite useless speaking to these people because of the fear has got there first, you have no chance of impressing them with any fact namely that the virus peak has already passed anything indicated they would have got it anyway and the figures this year are the same as the figures last year so there is scarcely a blip, the press have exaggerated, you can say what you like but it doesn't go in.
What is going in to me is the sunshine and I think tomorrow we might well take off somewhere and go for a walk.  I'm being flooded with reference to coronavirus which I add to my website as much as I can but the flow is sometimes too much to allow entry on every occasion.  We had a lovely lunch consisting of salad, home-made pizza, rice, pork, Strawberry trifle and yogurt. This was followed by our watching a documentary on life in Seoul and Bangkok. The latter is a supremely sophisticated city which puts London into the shade.  The only way I can go there is on the way to see my son who works in Thailand.  We could stop off for two or three days and check it out.
We went to buy some eggs at our farm.  The road is blocked in part so it's difficult to get there and once again the place has been barricaded.
it was the 50th wedding anniversary of the lady who runs this place so they're going to do a video conference for everyone to say hello rather than the garden party they were hoping for.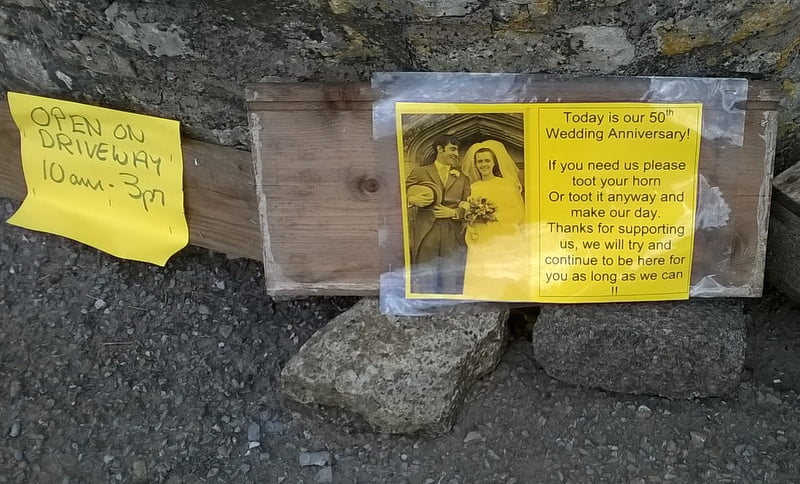 Home to potter around the garden, Françoise to attend to her matters in the potting shed and me to add further articles to my page on Corona.  A lovely sunny evening and hopefully another one tomorrow.