A bright(ish)  morning so bearing in mind the rain of recent days we decided to go off to Wells. Our annual pass to go around the gardens expires on 14 October so we thought we might as well make the best of it. We parked and went to the high Street. I can never get used to the sight of people being masked up in the street never mind a country walk but some people have become wedded to it. Is it becoming some sort of fashion statement? I have approximately 135 links on the attributes of masks and most people who study this sort of thing find them to be of more harm than benefit. This is the biggest psy-op in my lifetime.
First, to the market, where social distancing rules apply and there were far fewer stalls but each stall was doing good business. We had timed our visit to coincide with the inauguration of the new mayor who for some reason has a term of 18 months (normally one year). I assume it's something to do with the disturbance of the lockdown.
The market, busy as ever, under a huge plane tree.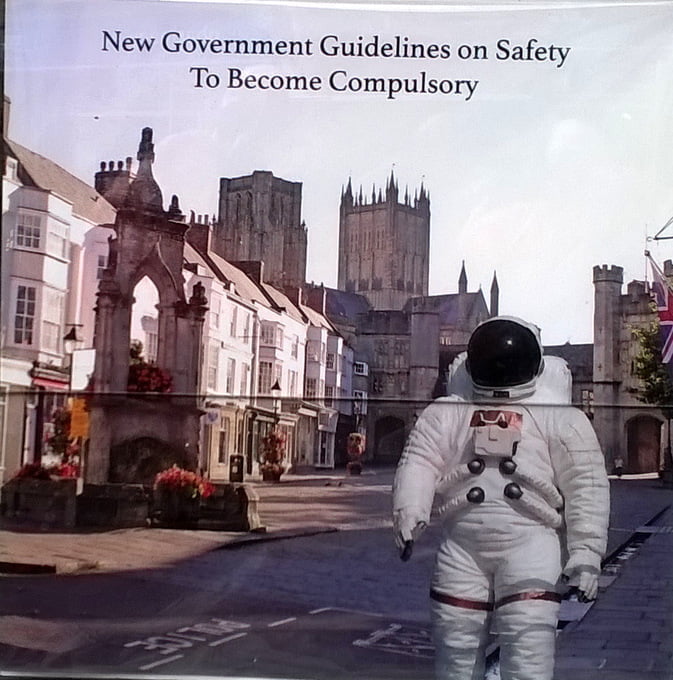 To the Bishops Palace. No matter how many times we visit, it is always different. I had not seen this notice and we seem to have a new 'people's ticket' where you pay once (£15) and get free entry for 12 months. That is a good improvement upon the joint price of about £64 per couple for 'membership' which entitles you to visit other places over the same period.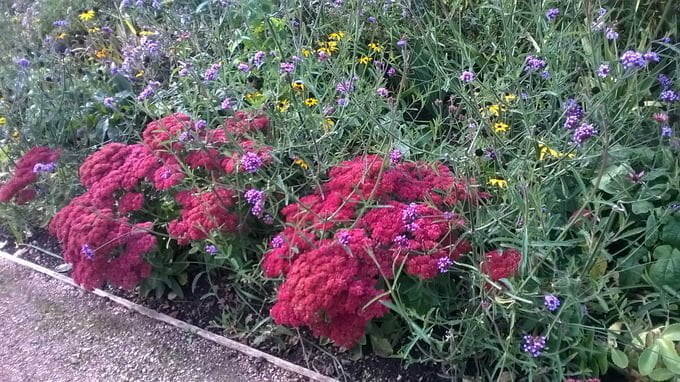 We had two meaningful conversations. I went up to a chap who was sitting on the bench overlooking the spring and chatted to him naïvely about the muddy state of the spring water. Little did I know that he was a caving expert and I got a long explanation of the sources of water, their comparative power and purity, and why this phenomenon of muddy water occurred after rain.
The second conversation was with the lady teacher who taught schoolchildren about trees. She said that all children thought of trees as "oak trees" and she does her best to educate them.
Both of the people were not wearing masks. It is part of my defense mechanism  that I do not to speak to people when I cannot see their faces. You never know, they could be snarling and preparing to attack.
It's amazing how people are conforming to these arrows. From a scientific point of view it makes no difference if you walk one way or meet someone coming the other way. The active period of the Covid virus finished about April. the scare tactic is being maintained for other reasons. I noticed that one of two people steered clear of me when I walked towards them but more than 50% did not abide to this so-called guidance.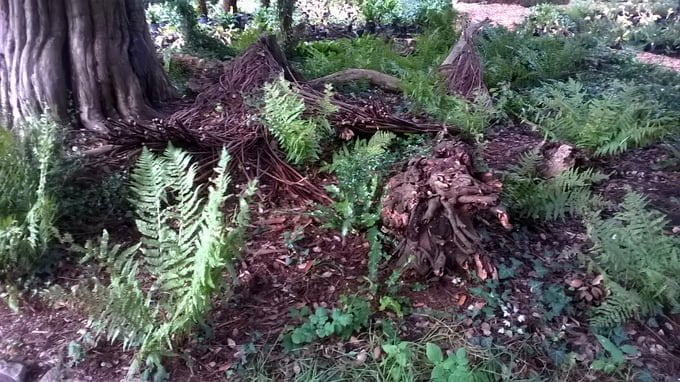 This was once a rather beautiful carved hand but the years have taken their toll and it's almost at  the stage of decomposition. A lovely idea.
This can be seen in the arch on the way out of the gardens.
The Swans regard the moat  as their own property and do indeed swan around. Advice, do not get between them and their offspring.
This was taken from an adjacent field and shows how the Cathedral must have looked in previous centuries. Wells is a truly delightful place with a creative is slightly snobby population. Be prepared to part with substantial amounts of money if you are thinking of living in the preferred areas never mind something historical.
We then went home via Hartley's tea rooms. Françoise had a roulade and I had sticky toffee and custard with a latte. Afterwards we went into the adjacent grocery and bakery and bought some bread. I was impressed by the fact they didn't ask for track and trace nor did they wear masks. The lady behind the counter who I think is the co-owner, called Tara, was totally up to speed and said they don't believe in masks, distancing and anything else.
I gave her one of my leaflets and she said that her husband would be very interested. Our leaflets are not for everybody. They are for researchers. Most people are totally besotted and convinced by the mainstream media, the BBC, and will not even listen to any other explanation even if you say that the masks are a device to cause us to submit to something which is counter intuitive.
Anyway, I'm getting my hobby horse again so I will get off and upload this diary.