The five men on board. (Clockwise from top left) Paul-Henri Nargeolet, Stockton Rush, Hamish Harding, Suleman Dawood and Shahzada Dawood
I feel for the friends of these people as if they had intuition (*which we do not know) that their men should not go, and they ignored it, they would blame themselves for ever more for not being firmer. It was noted that safety inspections had not been carried out.   It seems as if the craft was caught up in the Titanic in some way. With a pressure of 3.5 tons per square inch that is not a good combination.
You might like to look at this video which questions what actually happened. You may be aware of the mystery surrounding the sinking of the 'unsinkable' Titanic (or the Olympic as it was actually).
This video is from an engineer who feels that the craft was not subject to enough testing. 5.7m views in 1 day.
Due to a bee sting I got some infection in my left leg. Francoise has put some bentonite green clay on which draws out toxins.  My leg looks a little like a map of the world but it is just clay in the process of drying in the sun.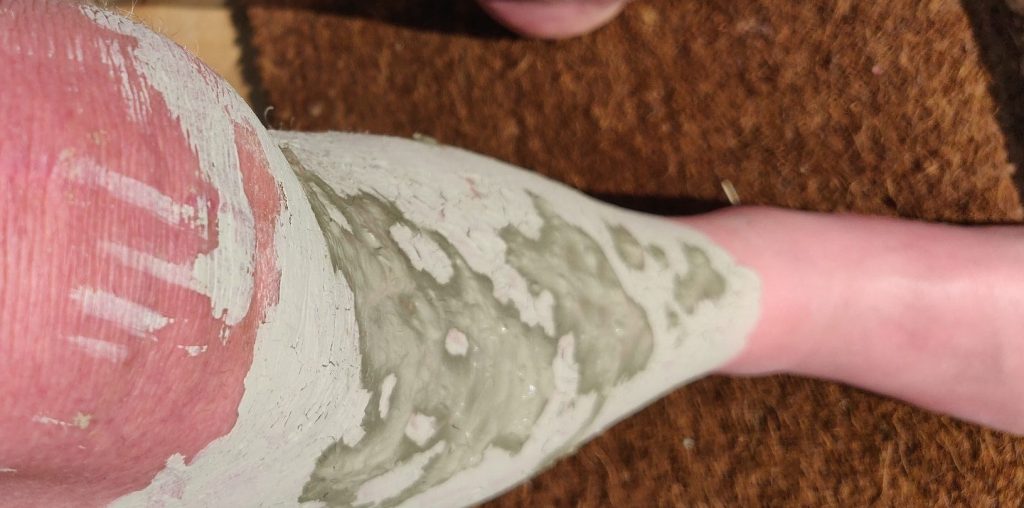 This afternoon I learned a valuable lesson. I occasionally do gardening jobs. Most of them are small. This one was a touch one. I had been phoned up by a lady in Peasedown about a strimming job that needed doing. I went round and all looked reasonable so I gave a quote and today I returned to do the job. When I started I discovered that there was far more to the job than strimming. Over the years, bags of tin cans and the like had been deposited. There were tree branches all over the place, some in piles. There were hidden paths, and for some reason tiles. You never knew when you were going to stumble on a branch. I reckon it was a minimum five year's worth of neglect.
I had a go with my petrol strimmer but the vegetation was so tough that the cord broke every two minutes. I needed a metal cutter not a plastic cord. To cap it all there was a slight slope and some undulations which made progress difficult. We did two hours work in the boiling sun and decided that it was too much. I was attempting to punch above my weight. I later wrote to the customer saying that I could not continue the job and I gave the name of another local supplier. I did not ask for any money for the work. Better to leave cleanly without obligation.
I was glad to put this down to experience. I love clearing but must be realistic. My body is getting older and I have to avoid twisted ankles, falls etc. I intend to be around for a lot longer though of course the good Lord will take me when it is the right time.