Kings Cross area
To destination via Victoria then the subway. There are a lot of high tech HQ's plus trendy shops in what was previously rail sidings and gas storage area and we wandered around. We were already getting a little bit tired but there was so much to see. Below is an example of good exterior design.
Here are more images of the area adjacent to Kings Cross Station and Kings Hall
We visited the delightful King's Hall. The atmosphere is always lovely, quiet and spacious. There were not many people around. Francoise decided to have a salmon en croûte with pasta and lettuce for the grand sum of £6.75.  A bargain in London. The restaurant must be subsidized
The East End
We took the Metropolitan line to Liverpool Street intending to walk to Brick Lane. I realised that my knowledge of London had slipped a little bit in the period that we have not been there. I should have alighted at Aldgate East which is a stone's throw from brick Lane. It is not called Brick Lane at the bottom end which adds to the confusion.
On the way we went to the Aldgate Art Gallery, Always surprises and originality. First, some street scenes.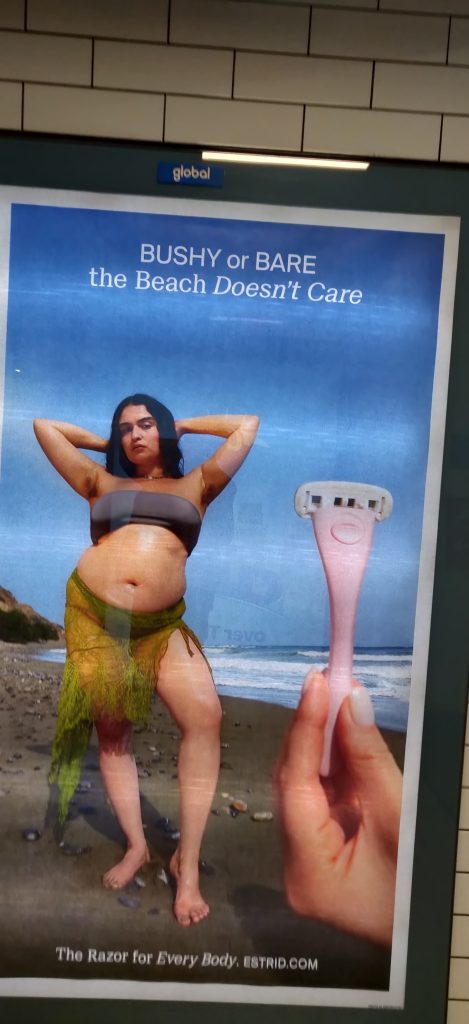 Aldgate Art Gallery
This room has a meaning for me. During the last visit to London I met a young man, an artist, who was full of the joys of Spring and as delighted to talk to me as I was to him. We had an animated chat for about 15 minutes and then we left to go our separate ways. On this visit, he was not there but the place that he sat – the small middle table – was still there to evoke my memories. I never got his name. It did not seem to be relevant.
Memories of times gone by.
This was a very interesting collection of period pieces,  London as it used to look,  with enshrined comments from the people who were young and impressionable at the time. I found the text a little bit difficult to read but it was worth struggling through to feel the authenticity of that period of time
The world famous BRICK LANE
Such an interesting mixture here of Jewish heritage, political change and protest, plus religions of various types and laterally a great concentration of Indian restaurants. This time to our surprise there were very few restaurants in the lower area of brick Street compared with last time we visited. I wonder whether this is due to new rules and regulations because to my recollection they were doing quite well.
I walked from the top to the bottom of Brick Lane taking pictures as I go. Prior to that, an entertaining shop window notice and a large advert for a watch company (there are large hoardings in London).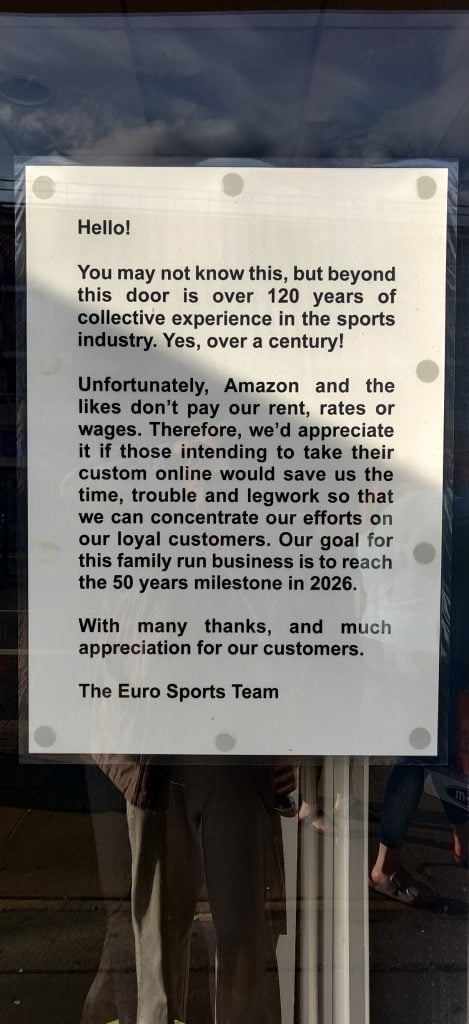 This is a unique Beigel store. I have never seen it, day or night, without a queue of customers. Francoises' favourite is a salmon and cottage cream Beigel. I declined as I was not hungry. Maybe I should have taken one for another time.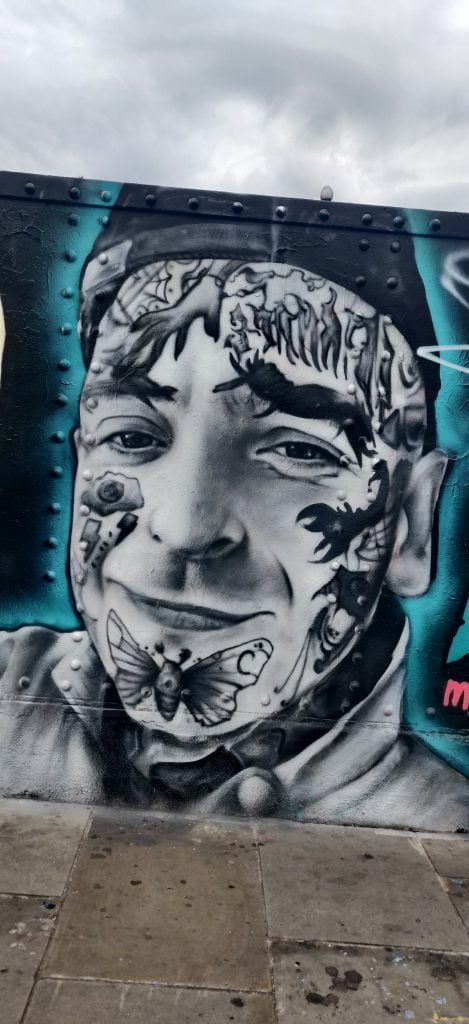 We were truly tired so off to Liverpool Street station, then to Victoria station and home
Short cuts to other pages of the London visit
Day 1    Day 2    Day 3    Day 4    Day 5    Day 6     Day 7