Up early as usual and after an uneventful bus ride we decide to eat something in one of the cafes adjacent to Bath bus station. We were greeted by this rather nice display of flowers in the main shopping centre. It is easy to spend quite a lot on breakfast. I had a croisant and coffee and Francoise had the equivalent.  Next to us, two ladies were waiting for their portion of hot breakfast. When it came I was slightly aghast because one of them had ordered a croissant coated was chocolate. I wondered how such a sugar bomb could be digested first thing in the morning. Sure enough she abandoned it halfway through, admitting that it was 'a bit much'.  I teased her a little bit about her eyes being bigger than her stomach.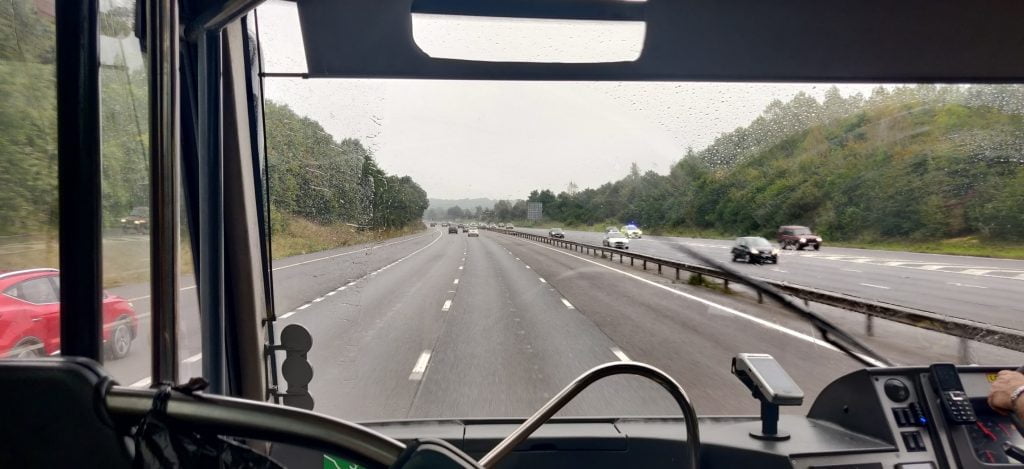 We caught the 11:15 bus designated to arrive at 14:50. This may sound a long journey normally three hours in length, this  came about we diverted to Heathrow Airport to drop off what eventually turned out to be the majority of passengers. The journey was rainy and dismal but mercifully few cars were to be seen on this rather unpleasant Sunday morning
The price of petrol has been increasing. Admittedly the price of a barrel of oil has increased at source- about $90. I believe this is due to supply restrictions i.e. politics.   I saw this sign on a surface station near London where the driver was changed. I thought a 25 pence premium per liter was a disgrace. Why people buy petrol at such places puzzles me. I always avoid motorway garages if I can.
Near the national coach station Terminus there is a small alley which we noticed had a fair amount of activity and someone had opened a bijou yard with a bistro, Cafe, coffee bar, all very chic and peopled by well off locals. It is called Eccleston Yards. How nice to have almost a pop-up community in such an undistinguished area. It is worth popping into if you ever decide to visit London by coach. It is only a few yards away from the obvious travelers feeding stations which can be over-crowded.
As you may know it is my ambition to spread as much love and light as possible with as many people as possible. I have honed this Talent over the years and I am now very good at it. We sat on a very crowded train and Francoise and I engaged a young lady who had been in this country arriving from Australia and hoped to work here for about a year. She had lived in Sydney and found our public transport rather lacking. Funny, because I find it superb. She complained of late or non-running trains. We had a very good 'human' conversation and wished each other all the best at the end
Getting round London
We spent £69.60 on a 5 zone  7 day travel card encompassing train, tube, bus, tram, the lot really. It did save us quite a lot over the daily travel card. If you consider that a single fare from East Croydon (Zone 5) to Victoria is £7.70 you will see that this is a good investment since this is near where we were going to stay at my sister's house in Addington.
On the face of it, where we were staying would not appear to be convenient for visiting London itself. Croydon is not London, it is a suburb.  However, once you get used to the travel, you accept the approximately 3 hours per day it takes to go to and from a given place. We normally start a journey from Central London in Victoria from whence we go to East Croydon via Clapham Junction. This takes about 20 minutes by fast train. Outside the station there is a tram service which takes us via 7 stops to a travel interchange. We then take a local bus which drops us right outside the house.  Frequency of transport is so great that you do not have to wait more than a few minutes before starting the next stage of your journey
Also the  first tram is about 5:15 in the morning and the last one a little bit after midnight and the same applies to buses. Night services serve the main routes  in and out of London so you are unlikely to be stuck
Staying with family vs. a hotel
It is very pleasant to spend time with my sister and do little jobs around the house and in the garden for her as she tends to have breathing difficulties so we are quite happy to be useful. A hotel whether you like it or not, you are just passing trade and the vibe is definitely different from family so in a way it is more restful.
Central London hotels indeed any hotels are ridiculously expensive or should I say the costs they have to bear are ridiculously high. You can spend £120 a night on a hotel without blinking an eyelid.  The Novotel in Paddington has prices 'from' £292. It is very rare to find even an Air B&B accommodation for much less as the owners have twigged the situation.   I think they should just call it AirB  because so few of the  establishments offer breakfast and when you find one that does it is quite a rarity.