Day 1   Day 2    Day 3    Day 4    Day 5    Day 6    Day 7    Day 8
We took my sister to Bromley just to have an outing. I looked for some sandals which I failed to find.  It is the wrong end of the season to buy such items. We went to the main Mall,  which is indoors of course,  and I looked in vain for the Pop-Up art gallery which we had seen a few weeks ago,  to no avail.  My sister has limited mobility due to the fact that she gets breathless so we decided to go back and catch the bus back to Addington.
We were due to meet a couple of friends in Hendon North London so we didn't have too much time. We went and had an  Indian type lunch which didn't look much, cost 20 pounds, but was actually rather good.
I don't know what the collective term for ticket inspectors are.  I'm going to dub them a huddle of inspectors because they were huddling.   As you see from the picture there were a number of them and if you look carefully there were two unfortunates that had been caught without tickets.  When I passed them a little bit later on they looked crestfallen and so they should be.  I do not often hear this word used,  but it means 'dejected, discouraged and often accompanied by a drooping head'.
Above is one of the many animals that Croydon Borough in their wisdom have seen fit to install in various parts of the town but I must say it does give character to the whole.
The New London Bridge area
My goodness they're have been some changes since I was last there which must have been 10 years ago I suppose. I can't say it was full of character but the buildings were very impressive and it is worth a walk around at the very least.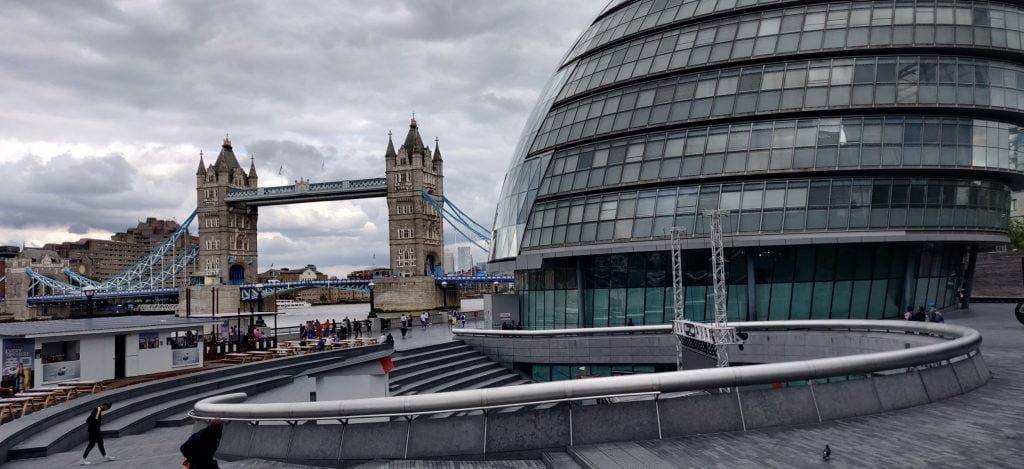 Off to see our friends. Again, a rather long tube journey north but it is always good to see people you have known for some time. We saw this rather threatening advertisement. Whether it works, who knows?
Steps walked – 13,082