Day 1   Day 2    Day 3    Day 4    Day 5    Day 6    Day 7    Day 8
Our journey down to Margate was uneventful. This was our first big purchase using our Two-Together  card,  which costs £30 per year,  On this trip alone we saved 24 Pounds so in my book that is a winner.  We arrived at Bromley South station through which most trains to the extreme south east coast go. The whole trip takes around 90 minutes and this is largely due to the great number of stops towards the end.  We caught the 10:02 train which arrived about 11:29
The reluctant campaigner.
As you know I normally engage complete strangers and there was a fellow opposite me, one row down talking to his girlfriend in a very articulate way. He had a T-shirt with the slogan 'Disobey'.  I thought about it and decided that a phrase with better parameters would be the word 'disconnect'. Obedience implies that there is someone who has intrinsic power over you and I disagree with this vehemently.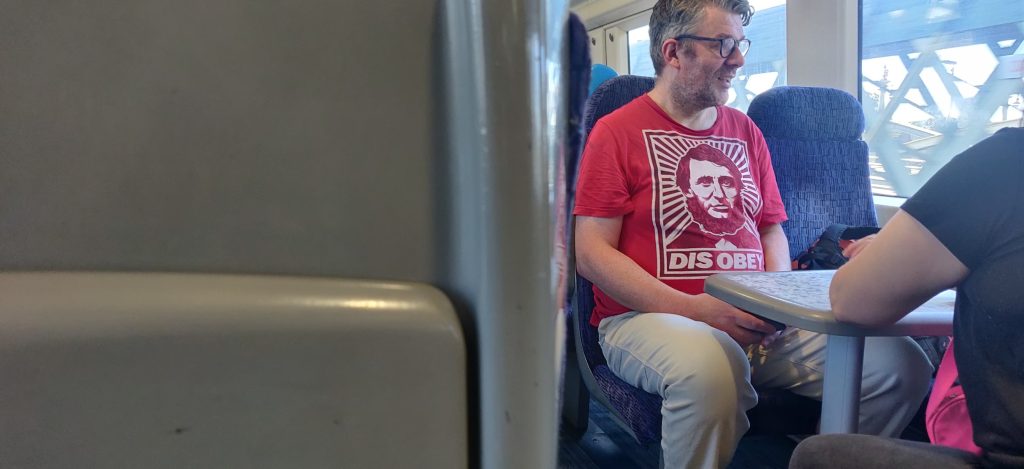 Anyway, I went up to him and in a jokey way challenged him and suggested the change in name. His response was half-hearted and said that this was just an old t-shirt that he wore and did not get involved in the type of discussion that I was proposing. I replied magnanimously  making me think which was actually true and I retreated and let him get on with his day.  I would not call it a failure but there was certainly lack of quantum entanglement if I can put it in that grandiloquent way.
Details of Margate
So, what's with Margate?  It is a town with its ups and downs but in recent years it has become more arty and you need to go to the Old Town to see quite a collection of artists Studios, exhibitions etc.
From what little I have seen during the course of a day Margate is ideal for children in that the beach is very safe and the tide gentle. There is no mud that I could see. There are a great collection of restaurants including of course Wetherspoons.  We had breakfast at a very traditional place  followed by much wandering around.  It seemed a little bit like we were in the 1960s.  The pace of life was slower and people were friendly.
Although it was pleasant on a sunny day I dread to think what it must be like on a cold winter's day and where the customers for the shops come from because on a cold day there are other things on people's Minds than a day trip to Margate.
There is a very useful information bureau leaflet which contains details about Ramsgate, Margate and Broadstairs.  It is very well composed.  You will find the information bureau in the centre of town by the promontory.  It is clearly marked.
Francoise managed to have a swim in clear safe water which was not too deep. There were only a few people also swimming.
The day was not full of profundities but little bits and pieces that we treated ourselves to such as oysters with white wine . I had two lots of ice cream or should I say one lot of ice cream and one sorbet. I will pay £3.50 for a generous scoop and this we certainly got. The ice cream was made by the owner and even the cows were local.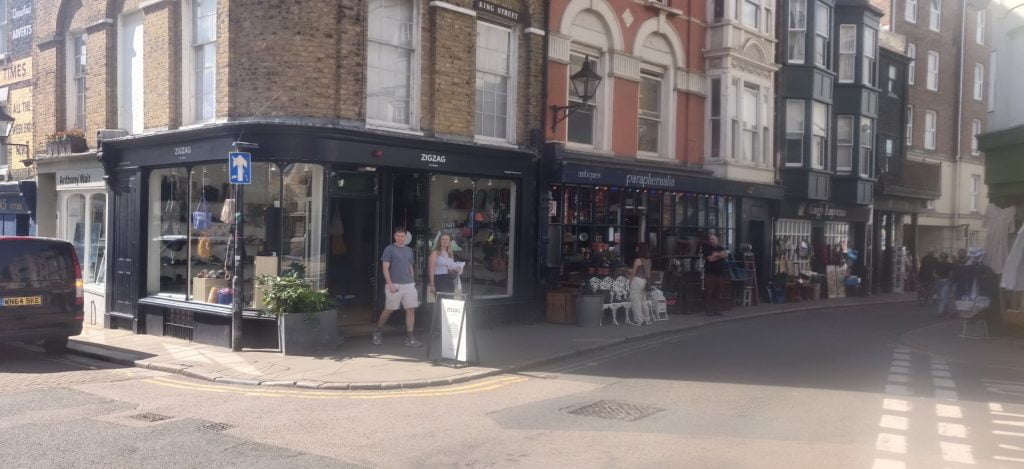 Above – center of the old town with plenty of quirky shops and exhibitions to keep you amused for an hour or two. Take time to talk with the owners. We did and they had stories to tell about their lives and why they did what they did e.g. the man who photographed curving waves from the inside.
Below – the building to the left is the information bureau and the building on the right is the famous art gallery which has visiting exhibitions from time to time but a less has no local artist representation
Above – A beach going to towards low tide. The seagulls and kestrels are of course in charge of the beach and will approach anyone who is eating demanding their share of the food. If you offer them even one morsel others will notice and gather around and you will have quite a task to get rid of them. Shoeing them off does not work.
Below – Francoise loves Oysters so she treated herself to three oysters at £1.50 each. (they can b e £3.50 each)  I bought a roll-mop herring and we had some white wine between us
An economically minded family could I think benefit from staying here because there are many walks around and a good bus service and the cost of living seems pretty reasonable. I would consider returning but the weather would have to be fine
number of steps – 13,406