Day 1   Day 2    Day 3    Day 4    Day 5    Day 6    Day 7    Day 8
Not a huge amount happened today.
Of course, a lot 'happens' but not the sort that can be photographed or recorded in the normal way.   I traveled up with Francoise  and we alighted at Kentish Town overground.   We went  our separate ways. She went to have a look what changes had happened in Kentish Town High Street and I went to see my longstanding friend whom I have known since the 1960s. It was here that I made a mistake, forgetting for a moment that I was in London. I dropped into a local pub, The Grafton,  and ordered a medium glass of Pinot Gringo in other words 175 ml.   The cost was, wait for it, £8.10
I could have got a whole bottle for that.  Slightly sobered, I continued on my way  and spent about three hours with my friend during which we had an Indian meal. I forget how much technology has taken control. When he eventually found a meal that someone would deliver in the afternoon it was three o'clock. He was able to track  on a map how the driver was progressing. I'm sure this obviates that need  of customers to call and ask where the order is. I don't mind being tracked really.   So long as my mobile phone is on, Google and thus the whole planet knows where I am, how long I stopped there and even how I travel.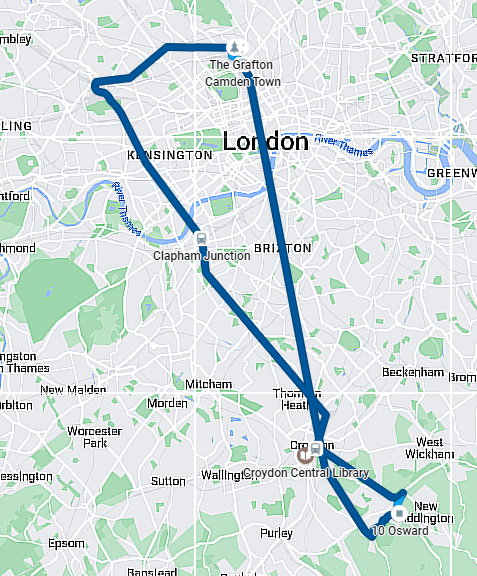 All my activities are innocent but I suppose that if they were nefarious I would not want to switch my phone on or perhaps have another phone which I would throw away and would not be identified with me.
Francoise traveled home under her own steam.  I omitted to see her text message saying that the quickest way was indeed via Farrington and St. Pancras International, so I went the old-fashioned way via Victoria.  To home and we had a nice meal together the three of us followed by watching TV. My sister and I enjoy any sort of programs with medical interventions such as operations, emergencies, skin conditions,   She was a nurse at one time.
Steps taken – 9615