[tta_listen_btn]
John Cleese is resurrected
I woke up this morning after a fairly restless night. It is very difficult to have one duvet for all temperatures and I was a bit warm. I solved this by having my front side open to the air. You have to experiment. For some reason I turned on the TV to see John Cleese, one of my heroes of old in the field of humour, on UK television announcing that he had been given a 10 installment show in which he could do what he liked. This is practically unheard of so I cannot wait to see more from this intelligent man who is not afraid to speak the truth. He said for example that BBC producers 'do not know what to do' with people with talent and all they want to do is to control. I love people who speak the truth AND he is 84 years of age to boot.  This gives me hope.
A definitive hotel review!!!
It has been my habit over the past dozen years or so to do reviews for TripAdvisor. I have contributed more than 2,000 relating to my trips around the world. I have been more preoccupied at home recently so there has not been much to do but I was fired up by my visit to Swansea to do a TripAdvisor special. For this you can blame one Nicole Pittman, who was the manager of the hotel that I had the good fortune to book at.
So are you sitting comfortably, then I will begin.
We planned a sudden trip to Swansea from where I have just returned. We decided to take advantage of the good weather so we decided to book a Sunday and a Monday night in a hotel local to Swansea. I know that many of my readers will have had experience of booking hotels at the last moment, perhaps attended by good experiences and some by not so good.
Let me share some of my experiences. Most roads lead to booking.com or hotels.com. I have not had any bad experiences with these booking agents but some of my best experiences are those where you book directly with the hotel itself. Some years ago I made a booking with the IHG group, a hotel in Germany, of which the Holiday Inn plus chain is a part. This is a franchise. The holiday group is in itself is an American chain of hotels based in Atlanta Georgia under the brand of IHG hotels.
The brand was originally called an 'Express' hotel and their focus is on offering limited service at a reasonable price. Standard amenities lean towards the convenient and practical which catered to business travelers and short-term. The Express element was founded in 1990 and currently has over 2826 locations worldwide, in North America. There are about 58 franchise Holiday Inn express hotels in the UK.
How and why did we end up at a hotel near to a motorway and basically in the middle of nowhere? Why did we not choose a beach side hotel? For the typical traveler like myself, we are looking for a combination of value, bed and breakfast basis, and free parking. One of the things we will not do is to go out for breakfast. The room only idea is a horrible one imported from the USA. Those days are passed. I would rather come downstairs, get my fix of coffee and food, wander upstairs again to our room and organize the day.
Very few hotels in the central area of Swansea have free parking and parking overnight can add considerably through the daily cost. Bangs for the buck or shall we say value for money is not to be found if you really must have an accommodation within say 50 yards of the sea. Also, if you want a peaceful environment, peace is often not to be found in the city centre. Bijou hotels are more expensive than I want to pay and a price between 150 pounds and 200 pounds +  is not unusual.
I don't want to sound cheap, but what I need is a comfortable bed, a place to park the car, and a decent breakfast. It did not take me long to track down the ideal hotel and that was be the above branch – the Swansea East Holiday Inn Express Hotel  which was by the M4 motorway and about 20 minute's drive from Swansea centre (say the bus station).
What do I hear you say? Stun horror shock, hotels and motorways do not mix but as we found when we turned up they definitely do. The hotel is cunningly built so that although it is close to the motorway the sound bounces up because of the slope of the ground. The Hotel itself is in a little bit of a dip. We had asked for a room away from the main road and with the excellent double glazing windows to assist, there was absolutely no noise of traffic.  Speech is silver, silence is golden.
The staff greeted us on arrival. I immediately picked up the sense of pride of service. The people really welcomed us, not just going through the motions. We had a bit of a laugh and joke. We went to our room and it was everything that we needed; clean and well appointed, the bathroom had been very thoughtfully designed with enough space to put your stuff in.
On the table was a very nice note, illustrated here, discussing the best time to go down for breakfast. It was not written in official language but heart to heart, using plain English, and speaking to you as a friend. That was a massive Plus.
I should add one more thing at this stage,  how I came to finally decide on this hotel.
1. I noticed that hotel reviews to TripAdvisor were always answered by one member of staff or another so that they actually read the comment and promise to take the required action as necessary.  Many establishments do not.
2. My second reason for booking was that when I phoned  them up before to ask for number of the bus that went to Swansea, the very charming male person said he did not know but would call me back in a couple of minutes. Their system showed my number so I didn't have to spell it out on the phone. He did indeed call back with the required information. This was my green light to go ahead and book.
NB The parking is free but you have to register the car in order to avoid being fined in what is essentially a public car park. A word of warning, you can't move in Swansea without having to pay something for parking which will probably be the same if not more than buying a return bus ticket or a day pass to get to the Center of Swansea which is £4.70. Its the X7 or the 31 but make sure you ask which bus providers the pass applies to.
There are two reasons that make this hotel strategically important, apart from being just off the M4 which would make it ideal as a stopping off point for those going further west, say to Pembrokeshire. There is a huge David Lloyd Sports Centre just adjacent, and and also a Harvester restaurant in the next building. Holiday Inn offers a fairly basic but adequate menu in the evening but the Harvester specializes in deals for example 17 pounds for a two course meal with a free salad starter. It did suffer from being a little too popular but when we ate on the first evening the service was good and cheerful.
Our breakfast looked deceptively simple but all the elements were there, I found the machine coffee a little bit light on flavour but it did taste good. We had a small choice of cereals, fruit juice, the  usual toast, and there was a choice of bacon, sausages, scrambled egg and baked beans.
On the second morning we were faced with a strange beast of technology, a pancake making machine which I found slightly disturbing. You press the button at the front and some lights flash and you are eventually presented with two small pancakes. In my case one was bigger than the other but I was told that it was because it was first of the batch. I found it slightly soggy but edible. The problem is that you can't see what's going on inside. It is bad  enough with a toasting machine (the ones that catch fire if you are not careful)  but you know that the toast is going to roll out but this one was a mystery and I wondered whether people in a hurry would just leave it.
At the end of the stay, I talked with the manager Nicole (above) , who had been in charge of the hotel since it was opened 21 years ago. She has nursed it into a very good condition and what impressed me most was that she does not hire people based on their qualifications but on their personality. She's very proud that the oldest employee is 71 years of age. I teased her colleagues telling them that the world could only cope with one Nicole at a time, implying that she was truly unique. They took it in good spirit.
Evidently, the manager had decided to fill one-third of the hotel with Ukrainian refugees and it was wonderful experience she said, see them turn from confused and frightened people to those who were able to find jobs and situations within the area. I would call this job satisfaction written large. They want to work.
So I paid 160 pounds for two nights bed and breakfast for the two of us. Understand that rates vary, of course. Hotel rates get more like flexible airline and coach rates adjusting to the demand but then you don't need me to tell you about that. I like the size of the hotel because when you have three or four hundred guests it does get impersonal and crowded at times but this one was the right number for comfort. A real family atmosphere.
You cannot fake it. It's in the walls.
A trip to the beach
Well, you can't quite call an 18 mile drive a 'trip',  but hey, we were adjacent  to the 'Gower Area of Outstanding Natural Beauty' so we chose to go to Oxwich and see what the beach was like.

I cannot tell you what a blessing it was not to have crowds. That is the advantage of going outside the main season. I guess there were about 30 people on a huge beach at least a mile long, exercising their dogs. There was the occasional swimmer in water that was warmer than Francoise expected. We had arrived in the very small seaside village to find that the standard parking charge was six pounds for the day irrespective of how long you spend there.
Me being me,  I wanted to get a bargain without paying so we drove around and soon realized that there was literally no other place to park so we went back and paid the six pounds. The car park was huge. It could have taken 500 cars and that space would probably be needed in July and August.
It could have been a bit warmer and the wind was a little bit chilly so I put another layer on and we walked the entire length of the beach picking up seashells and a little bits and pieces. I was very glad to see a school outing with the children playing around as children do with very little supervision.
Grande Finale –  the Gower Heritage Centre
This is an amazing place where you can escape from Modern consumerism into the past and see life as it must have been in times of yore. There is a mill, part of a wool Factory, a stream with ducks paddling up and down, and a wonderfully friendly reception area selling all sorts of nice food, cakes plus there is a bakery selling bread of the highest standard. I would recommend it to anyone who comes anywhere near the place. The cost for two people including parking the car was £14. All the people who work there were very friendly and keen to talk. We had some lovely locally made cider which really was first class.
Pictures speak louder than words so here are many illustrations of this lovely place.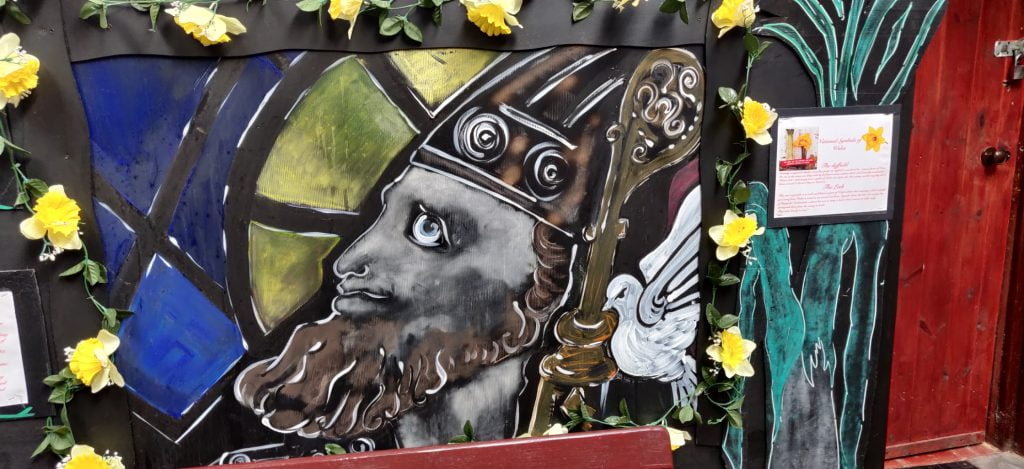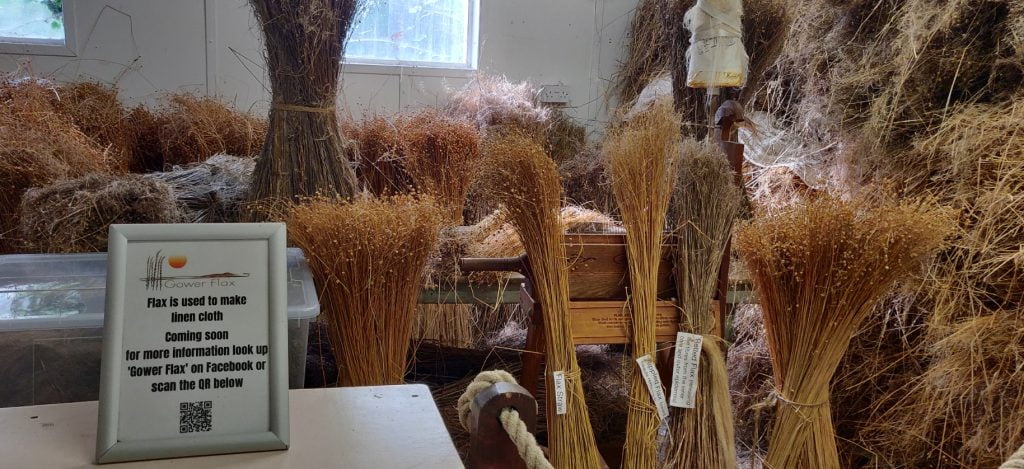 And so to home
In a way we found that two nights can be turned into a very full three-day trip. Because there was no flying or time changes there was no need for  adaption. We left early on the Sunday morning and enjoyed a full day on Sunday, a full day on Monday and most of what was possible constituting a full day on Tuesday. Eventually, my head was buzzing with what I was going to write in this diary so I reckon the following is a good formula.
1. Stay in the United Kingdom
2. Choose somewhere within a three-hour radius
3. Book a decent Hotel
4. Do some research beforehand
5. Leave early on the first day
Over the bridge between Wales in England.  A sign that this journey to Wales is over.
We arrived home appropriately enough as the sun set at 6:30 having left at 4:00 p.m. There was a little congestion but not more than a few minutes delay even in Bristol through which we had to pass.