A sad rainy night, up and to the office, where busy all the morning. At noon to the 'Change and thence brought Mr. Pierce, the Surgeon, and Creed, and dined very merry and handsomely; but my wife not being well of those she not with us; and we cut up the great cake Moorcocke lately sent us, which is very good. They gone I to my office, and there very busy till late at night, and so home to supper and to bed.
I know how Pepys feels being too tired to write his diary but fortunately I have fewer statutory duties and thus more time.
The summer/Autumn Festival season is still with us so off to the Village of Pilton. ….. <later>…   I had failed to make the connection but Pilton is right next to Worthy Farm, owned by Michael Eavis of Glastonbury fame. I saw the little notice and everything clicked.
I saw this as a good chance to snoop around and see what I could see off-season. However, the reason for setting sail was to see the 2017 Pilton show. I shall not dwell on this for long  but include the usual pictures. I found the whole thing a little bit scruffy. Apart from usual tenpin bowling, the facepainting, the marmalade and cake stands, there were about 7 stalls devoted to selling what I can politely call  second-hand material. Piles of old books, DVDs, lots of pink toys for children,  plus a  bouncy castle of sorts. A country and western band were playing. There were competitions in the arena and there was a very large marquee where they were serving beer and cider, tea and cakes, and showing quite a considerable number of competition classes in the creative arts and grown food items. I took some very tempting cake and tea but for some reason the cake repeated on me about an hour later.
I don't know what they put into it, it just needs one chemical of the wrong sort and my system says 'no thank you'. I think there would have been more features but the previous organiser of the show, Hugh Berry, had died this last April  and is probably set back the whole thing. When we left at about 4 PM there were plenty of people there and they were having a good time so it is what it is.  Pilton is a very small village with a population of about 1000 so they have actually done  pretty well in my view. In the evening there will be a hog roast and a barn dance.
Due to the state of my big toe, which is rather inflamed, I did not particularly want to hang about for three hours so we left. They say it takes about 3-4 days for the antibiotic to work through so we are two days in now from 5 pm Thursday. I feel groggy but have been warned to stay the course with the medication.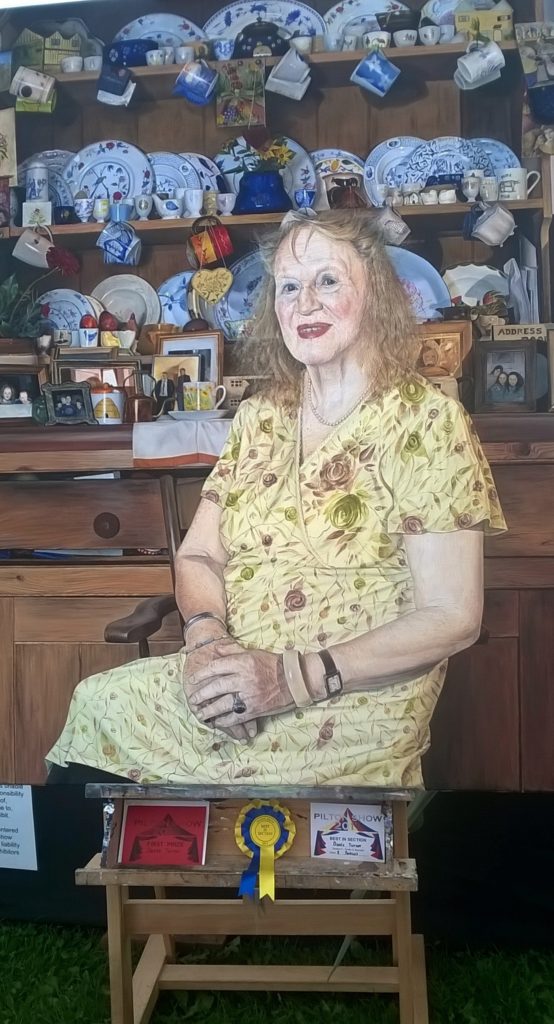 The second part of this diary will consist of my observations of Worthy Farm admittedly from outside the perimeter. I don't think anyone would have minded but I felt to go round without asking would be intruding.
Click here to continue.