…My wife this afternoon being very well dressed by her new woman, Mary Mercer, a decayed merchant's daughter that our Will helps us to, did go to the christening of Mrs. Mills, the parson's wife's child, where she never was before…
What a luxury to have a dresser. I recall that Selfridges in London had a fashion adviser who would without obligation give advice about colour, style etc. This service has I believe been discontinued mainly because the customers thanked the dresser for her help and then went off and bought the same garments on the Internet.
Anyway, today Saturday 9th September 2017 is from my observations over the years the day that autumn begins. Goodbye to the possibility of hot sunny days (I recall that we had five of them this summer) and now we can expect fresh cool mornings, dew on the ground, and autumn leaves. Meanwhile, hurricanes are lining themselves up to batter small defenseless islands prior to visiting Southern Florida. We should be grateful for small mercies.
*****
V is a more senior lady who lives two doors from us. She came to ask me to help as a gardener when roots by the fence became too much for her to handle. I said I would help and refused payment saying that we do not charge neighbors. We showed up this morning and pulled out the very reluctant roots plus another uprooting. It took all of 10 minutes. However for her it was a major matter and was about losing the ability to control your environment. This induces a feeling of helplessness which was keenly felt by our widow. She was grateful enough to bring a bottle of wine around to thank us.  Tip to those of you who are asked to do something 'small' – it is not small to the person who asks.
*****
I had seen an advertisement for  'Heritage trail', a trip around a dozen or so East Mendip Churches headlined 'Ride and Stride'.    I also saw an ad for a Flower Festival at St. Johns Chilcompton. I mistakenly concatenated them, thinking that all the churches would have flowers so I decided to go. Thank goodness I followed by intuition. We had a feast of meetings during this 'shower and shine' September Saturday. Now prepare yourself for a feast of flowers on the theme of church Hymns. Don't forget to hit Ctrl and + at the same time, repeating as necessary, to enlarge the images.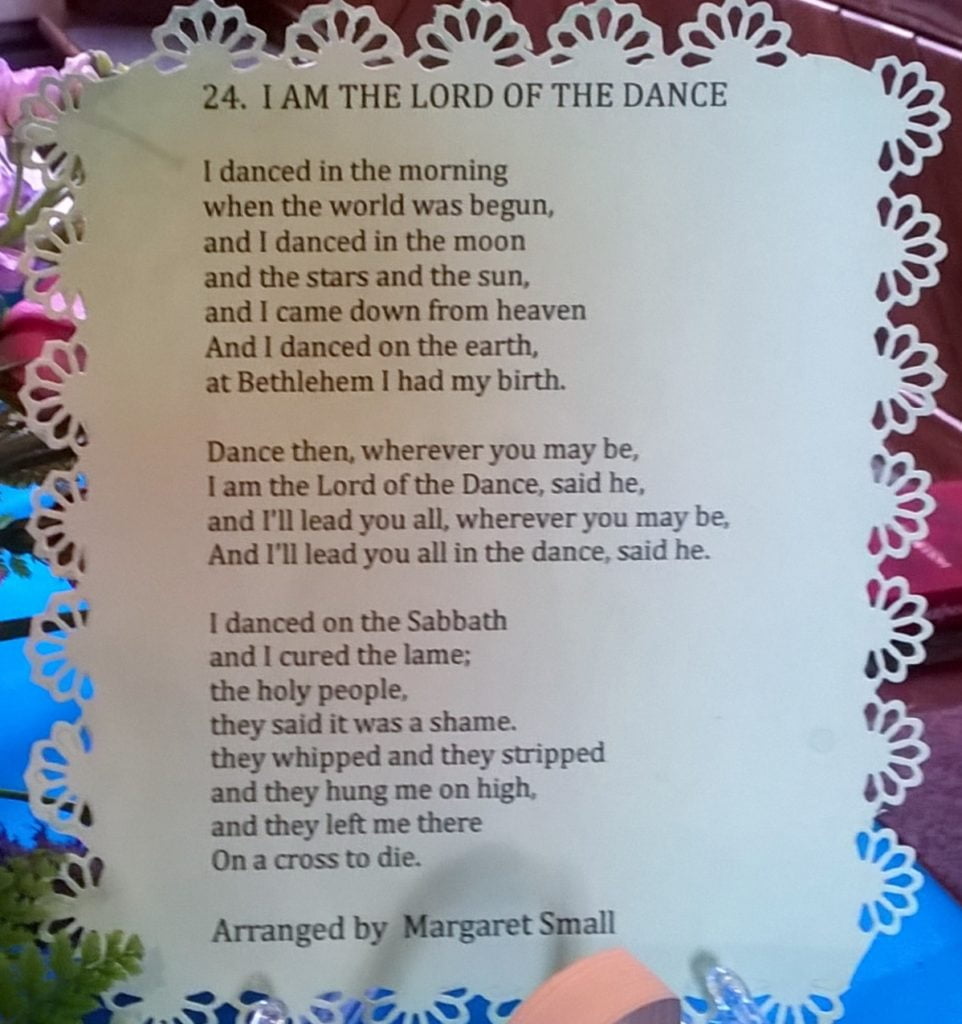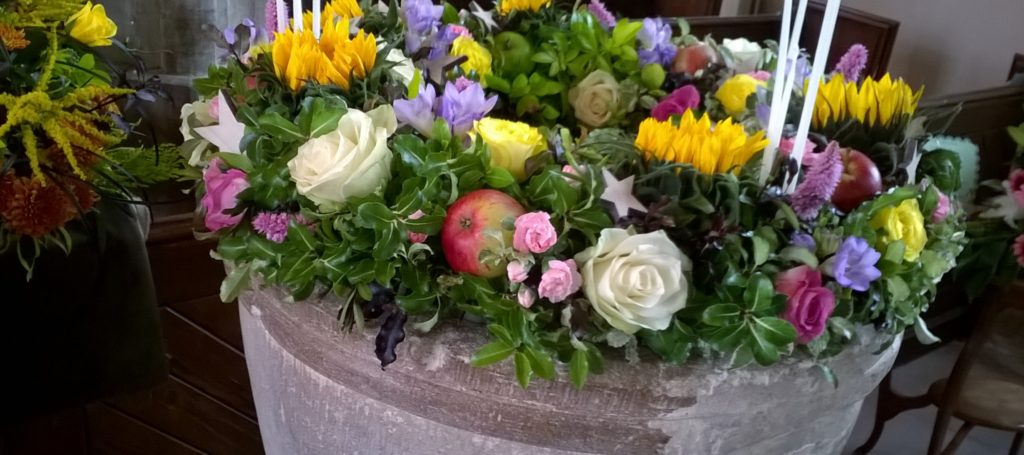 I have seldom seen such a concentration of love and caring in pieces that must have taken months of painstaking work – to conceptualize, to select the materials, to assemble the structure and finally to select the flowers that would be in full bloom at the same time.
Anyway we then started on our trail, which I will recount in the next part of my diary. I could never in my wildest dreams written such a scenario for sheer delight in conversations relevant to ourselves and those we met.
to follow…