You need to have read today's previous installment to understand the context. …We obtained a leaflet inviting us to tour round some old churches – average 'age'- 600 years. What could be more boring than that. Little did we know who we would bump in to.
Martin Buber (1878-1965) was a Jewish philosopher, theologian, story-teller, and teacher who said 'all real living is meeting'. We could also say "Openness to life is at the centre of true development". There is no true development without this openness to life. This was from a brief speech by Holy Father Francis which is worth a read. The implication of this message is all the more stark if you consider its opposite.
As readers will know I find no inhibition when it comes to meeting 'strangers'  i.e. friends that you did not know you had. So off we go with our trusty GPS. First port of call is Stoke St. Michael.  It contains an excellent pub, the Knatchbull Arms (BA3 5JJ), where all sorts of secret meetings took place in the  second World War.  For some reason it changes owners quite regularly possibly due to an excellent gastro pub about 3 miles away. You don't make money on beer sales from half a dozen locals propping up the bar on a Tuesday lunch time.
However, enough of this gay banter. The focus this time is the Anglican Church of St Michael, a Grade 2 listed building, and we entered expecting to find flower displays. Instead there were two jolly people, husband and wife, and a table of tea, coffee, cakes and rolls no doubt provided at personal expense. The lady had lived in the area all her life, the husband had been born in Frome and whilst away in the RAF his wife developed formidable qualities of independence. We had some good humoured banter including gossip about the local pub (above). We talked only briefly about the architecture surrounding us. I am not a 'history' person and failed my history 'O' levels at school mainly because I returned an empty exam paper, having spent the time revising for my chemistry exam. I do sometimes buy a guide book but I must admit it is an uphill task to fix it in my mind.
We also had a joke about the areas most infamous lane, one that takes naive GPS owners to the car repair shop. I was caught myself when coming from giving a quote for a garden job. The bend went on and on. My wife had to get out and minutely direct me inch by inch backward and forward. I wondered why a local man stopped to watch, grinning the while. Obviously not the first time this had happened. Mind you, Volvo estates are not the shortest cars in the world so I must not complain.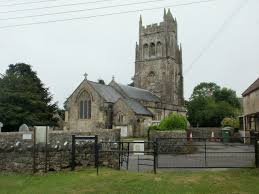 With threatening clouds scudding over the sky, on to Cranmore. One of the best indicators of a lively village is its web site and this one is no exception but alas not all pages have been kept up to date. This is normally because the volunteer webmaster has become overloaded with work. We dashed from the car due to a rain shower. As we approached the church door we heard the sound of the organ, always guaranteed to warm the cockles (ventricles) of my heart. This old fashioned phrase means to 'warm and gratify ones deepest feelings'. Of all instruments my personal gratifiers are the organ as number 1 closely followed by the piano 'coming in at number 2' as they say. On a good day, the violin is number 3.
We met a lady who was obviously an academic and an intellectual who showed us around. This church was full of flower displays in preparation for the Harvest Service which was due to happen the following day. First she directed me to the end of the nave and the famous stained glass in remarkably good condition. I guess this is partly due to the lack of chemicals from cars and industry.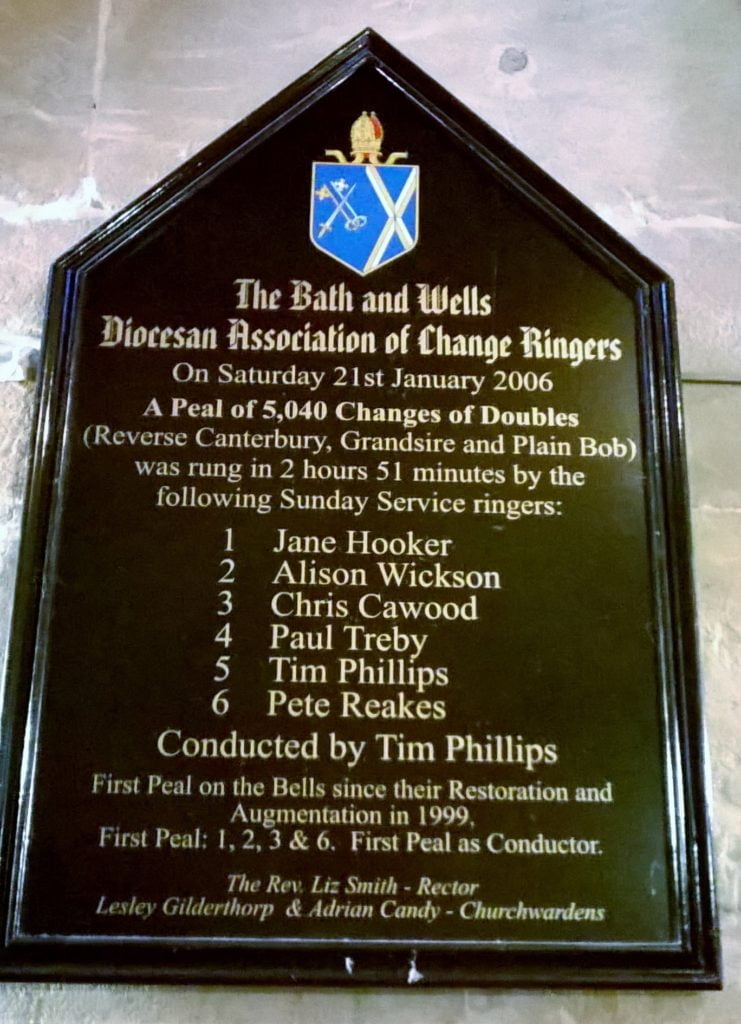 Evidently an attempt was made to break the record. In order to do so there must be no mistakes but alas after 2h 30m one unfortunate soul made an error. Result – everyone went off to the pub to drown their sorrows. As you will see below the displays reflected the Harvest.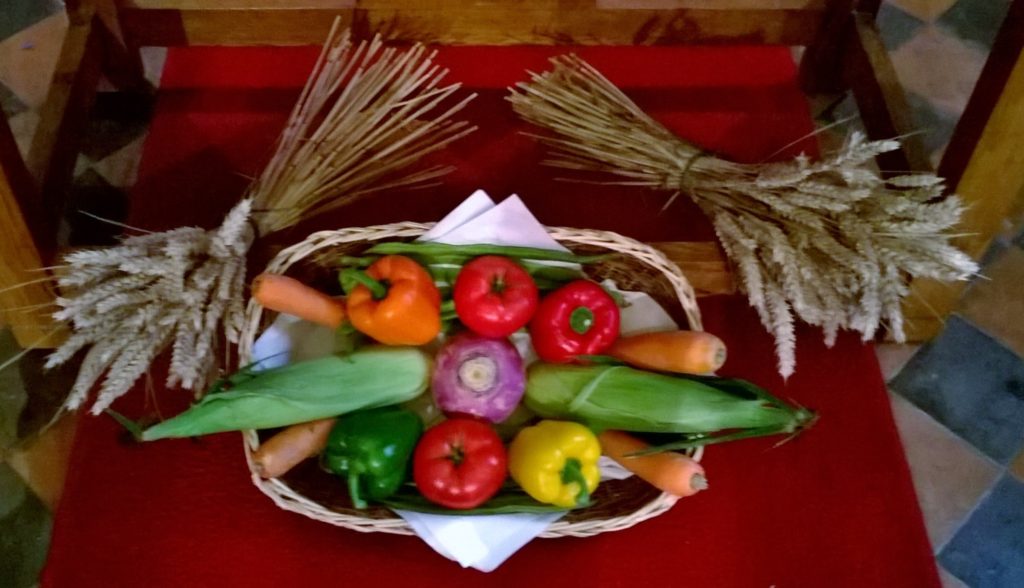 We left with the sound of the toccata from Widor's fifth organ symphony being rehearsed enthusiastically. This work does require resonance in the building in which it is played and is well nigh impossible to do justice to  on a small three keyboard organ with zero echo but hey its the spirit that counts.
Just watching a vid. where an organ is used with a 128′ stop. Someone writes "When people win the lottery they're all like "I'll pay my debts, buy a house and an Aston Martin!" Screw that. If I win the lottery I'm having a full range organ built into my house and I'll only ever play it with ALL the stops open. I will level cities with my music!"   Nice one, bro