On the way I saw a poster about what must be one of the most original names of a group ever.
We in Somerset know how to do our events. This was a one day event featuring (take a deep breath) judging of animals such as sheep and cows, horse trials, vintage car displays, old arts and crafts and entertainment for the children, loads of different types of food, flower competitions – you have got the idea I am sure.
It ran from 10 am to 6m Sunday 18th August. We turned up shortly after the start and stayed through till about 3.30 pm.  This will be mostly a picture diary and in no particular order. The weather treated us well this time . Last year we had rain, and everyone was slopping around in their boots.
Lots of lovely healthy chilli plants, sauces to match.
Three in one. The machine fine tills the ground, makes a furrow for the seeds, and finally sows the seeds through plastic tubes.
Hello hello hello what do we have here then?
The era when you could repair your own car
coal fired belt driven sawing machine
engine assisted bicycle.
and the wall completed
Now, this is how to keep the kettle on the boil. Cut two grooves at right angles on to an old tree trunk section, get some sawdust or similar, brush it in the middle and light with a match.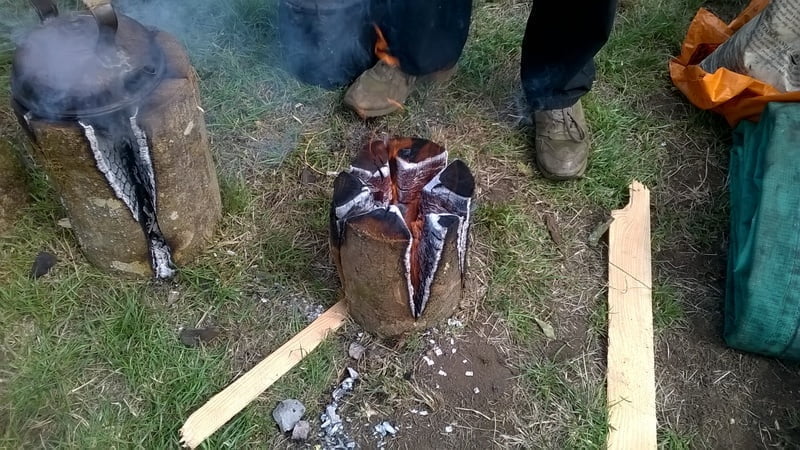 Over a period the inside will catch light and provide heat for endless cups of tea.  Wonderful. The whole show was worth it for this one exhibit.
Well my dear, this is the first knitted willie I have seen but there is a first time for everything.
On the way home we stopped off at a nature reserve and enjoyed the quiet woods, devoid of any litter or come to that, other people. What a joy. We later found some blackberries which we took delight in taking home for supper.