Autumn is in the air. A certain damp smell. I think we have had our summer. We are so glad we did not go abroad as the weather would have been too hot. 30 degrees was enough for us here (did it rise to 33 degrees at one point?).
Today is Friday – off to see a new gardening client (or is it customer)
The property was in Timsbury. The mother had passed last May and the family were experiencing the joys of probate. I always say that this necessary chore or to put it bluntly the division of spoils brings out the best and the worst in people. Anyone who has experienced this knows the importance of writing a will. Dying intestate is a form of sadism to your relatives not to mention your children / ex-spouse.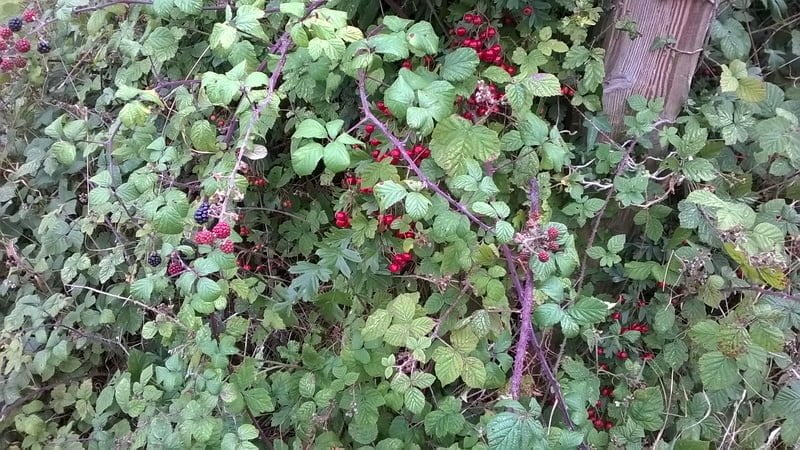 Anyway, the property contained a garden that was in a dreadful condition. You could not make any progress up the garden without carefully maneuvering long and healthy brambles aside.  Worse there was no access via the garden so all spoil had to be taken through the house. The executor of the will, the son of the deceased, lived in North Wales, a good 200 mile return trip if not more. So the task of keeping control of everything and removing the effects of the house is more wearing.  Hence the need to find someone reliable to make the garden photographable. I estimated it would take a week to do. It is very difficult to give a quote in such cases so I will give him a ball park figure with a few hundred quid this way or that.
11.30 and a fine time to go off to Longleat Forestry (where the animal park is). We bought 150kg of dry beech wood for £22.50. I have a volvo estate and had I filled the whole back with passenger seats folded I could spend about 35 pounds. Around this time of the year, people offered to deliver so-called mixed wood for about 65 pounds per Square meter. The trouble is that the wood is very definitely mixed and has half what I call decent wood, the rest can be after immature and rather damp branches. What I like about the place I just told you about is that you can pick your own. Anyone who lives with 15 or so miles of this place will find it an enjoyable and profitable round trip. BA12 7NW will do.
Off to Warminster – truly in Wiltshire. Francoise went to add to our stock of halogen light bulbs before they are replaced by the LED lights at the end of August 2018, this month. After the usual wandering around and debating whether or not to have coffee, We chanced on a sign which said 'food bank'.
This was the old Town Hall. The Dutch lady who ran the volunteers was enthusiastic and showed us around the considerable amount of food and necessaries such as sanitary products, tooth paste, cleaning fluids. She says a lot of young homeless men come in as well as single mums. The Food Bank  distributes 25,000 kg of food per year to those in crisis.
'By providing this food, our Food bank helps to prevent family breakdown, housing loss, crime and mental health problems. We also take the time to listen and signpost people to further support'.
We left feeling very good. Off to the market to buy some figs and to a traditional butcher where we bought some good quality steak burgers and some jerk chicken wings.
On the return we chanced to see a sign up a country lane 'Fish and Chips'. We never found the establishment but after about 2 miles we found a lovely pub called The Prince of Wales.
To describe these people as 'royalists' was an understatement. All the wall area was covered with news cuttings of the Royal Family. We had a good fish and chips, some moules and drinks for a very reasonable price. What a lovely atmosphere.
Once again, following my nose and not over-planning gets us to the right places. Each and every time.
Back then towards home but stopping off at Somerset Lavender. The whole cafe area is full of lavender products including lavender itself in a bag, soap, lip balm, oils, sprays – you name it. We had a jolly chat with the young girl who ran the coffee shop and then finally becoming tired we returned to base.
This is what £22 worth of wood looks like.