I was severely whacked and fatigued yesterday by the high amounts of electromagnetic fields blasting out from everybody's mobile phones so the ideal time had come to take a train to Richmond, that most affluent town. Of greater interest to me was however the Park. Like Hamstead Heath, it's a little bit of the country in the 900 mi.² that make up the greater London area. Richmond Park is the largest Royal Park in London covering an area of 2,500 acres.
We walked to the restaurant first of all. A wedding party was convening and people were turning up in their finery. We had a lovely coffee and cake on the terrace with a splendid view of the surrounding countryside.
As you can see, deer roam freely around and as you can no doubt see from the images, they seem to have lost their fear of humans.
To the Riverside. Being a hot day that it was, the place was absolutely full of people and the pubs were heaving with customers. It is a sport to watch people park their cars and have them flooded by the incoming tide. However this particular tide was neap so we had no particular schadenfreude on this occasion.
Meanwhile, the Pool of London authorities had discovered a tree branch that had broken off and to avoid it getting stuck in a lock or fouling the propellers of ships it was towed to the side and anchored until it could be disposed of.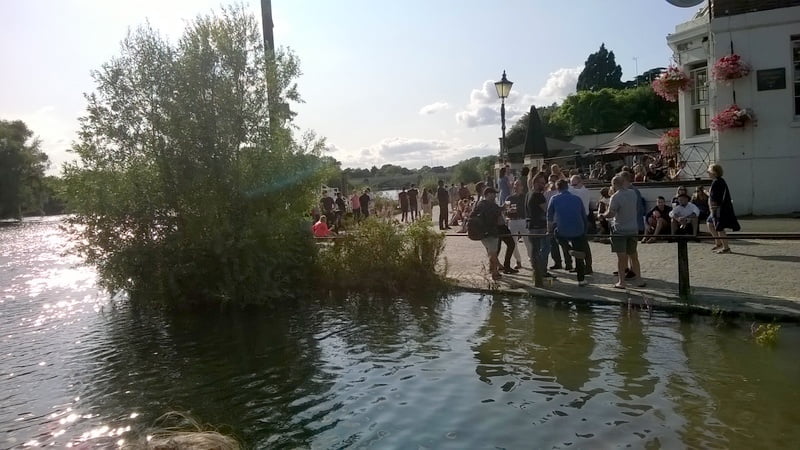 We ended our afternoon by the River at the official high tide which was 5:58 PM and went into the town and had a lovely meal at the Whole foods, part of an international chain. There was a lovely self service buffet both hot and cold and I would thoroughly recommend it.
And so, back home via the train. I think I got the stickiness of yesterday Friday out of my system. The problem is that electromagnetic waves are invisible but they affect your body on so many levels it is insidious.