Today we went to a local picture framing company who was celebrating 10 years of trading, of which five years had been in the premises on an industrial estate part of which is shown below.
Outside I spotted a very flashy car with the logo "Greenplanet tuning.co.uk" I was intrigued by this and wondered whose car it was.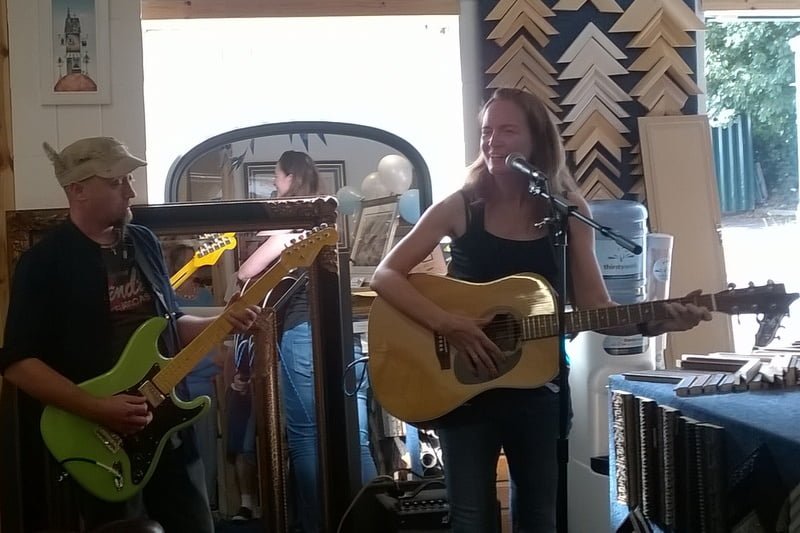 I asked the chap who was helping serving drinks and he pointed to the singer on the right-hand side of the duo that had been hired to entertain us. Lo and behold, the owner of the car was the lady on the right. I would never guess in a million years she was a professional car tuner. I went up to talk to her after the set. She specialises in high-performance diesels. She plugs in some equipment to see the performance of the diesel, sends the report off to a company in the North of England and receives a 'setting report' showing how the car can be tweaked for better performance and greater economy.
So, as they say, you can never tell.
We decided to go to the tiny village of Stanton Drew where there are various ancient stones. We find it a very peaceful place to just 'be' in except if the cows who are allowed to graze on the field show too much interest.
It was a lovely blowing day and if you look very good eyesight right in the middle of the image you can see an EasyJet plane flying south from Bristol airport.
Back to the village and I could not help noticing the ad for a Bavarian evening by the Village Hall, It sounds fun.
A lovely view of the inside of the local Norman church.
So, a nice blow on a perfect day for walking and being out in the fresh air. 21°C and wind blowing from the south-west.