For some reason our plans for celebrating my birthday which falls on today Monday 7th of June 2021 were not working. We discovered that all the local restaurants where we planned to go were closed on Monday or certainly at lunchtime. I looked around in the way I do and I thought that we should go to Weymouth. We went there some time ago, two or was it three years ago for a fish Festival so we decided to check the place out and I found a good fish restaurant in advance so we could have lunch, more of that anon.
The journey was about 52 miles and took across country one-and-a-half hours. We decided to leave in good time at 9:30. The weather was overcast with periods of rain but it soon cleared up.  We went to the park and ride because the parking in Weymouth can be very tricky (expensive)  at times. I decided this was going to be a day of self indulgence; my partner was very kindly going to pay for the food so we started off by walking around the harbour, picturesque even in the worst weather and as it was shortly after midday it seemed a very good idea to have a drink, one which I had not had for at least 3 years – a large gin and tonic. We had a chat with someone about their electric bike. His weighed a ton but had 45 miles of power in it.
I find Weymouth much more attractive than Bournemouth. The latter has far too many large chains as I have written about before; Weymouth has lots of little shops all of which have character. We bought some nuts and raisins and other attractive foods from a health shop and having decided not to book turned up at the chosen restaurant, Rockfish,  at 1 p.m. Only to be told that there was no vacancy until 3 p.m.
Not sure about this image seen on the main promenade
We decided to ignore the opposition and so we spent the next 2 hours walking on the very large beach. We noticed three very large cruise ships which had been parked about a mile out. I understand the area around Southampton is so full that this became the overflow parking area. Local initiative has provided boats to go and view these parked behemoths, so long have they been there.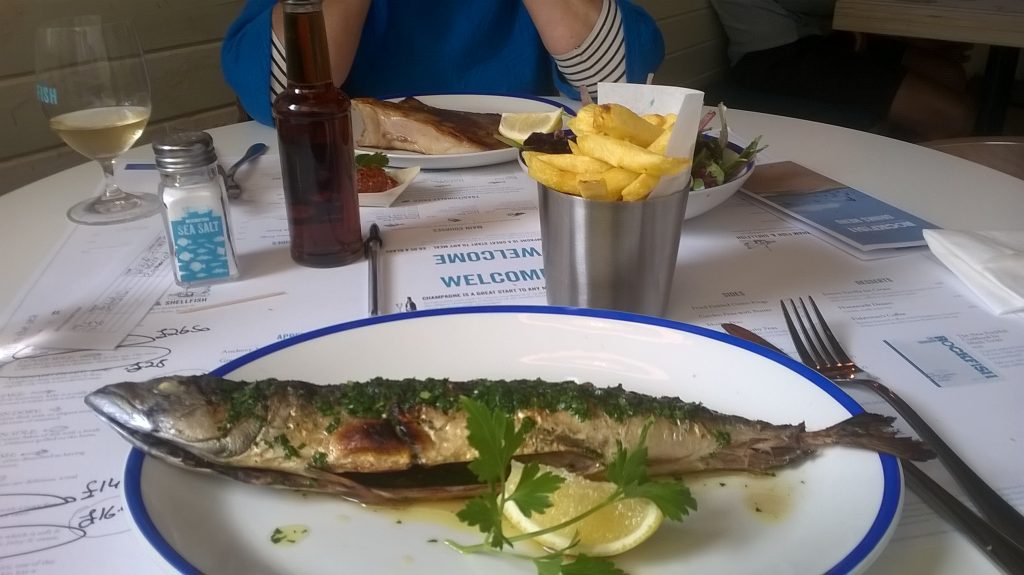 We returned at 3 p.m. And were seated. Francoise had a ray fish and I had a mackerel. Both were cooked in butter and were delicious and fresh. We had an interesting experience when paying the bill. I noticed that we have been billed £40 for a magnum of bubbly that we had not consumed. The staff were not sufficiently apologetic, and I did not get a good feeling about their attitude. However, the meal was good and particularly the ice-cream was of excellent quality being real cream not some pig fat or whatever else they use in the more common brands.
After the meal, I went to buy a 200 million-year-old fossil tree section, my eye having previously been caught. It was beautifully polished and I decided that this was my treat to myself for my birthday. This section of the coast is known as the Jurassic Coast for a good reason.
We then went to a very nice coffee bar abutting on the sand of the beach. I had a latte and cake. We got talking to two ladies both of whom lived in Turkey for substantial parts of the year and of course with the red restriction, travel was impossible there so they compromised by taking holidays in the United Kingdom.
We then returned to the park and ride. We had one unpleasant experience on the bus. The driver hammered on the window and told me to wear a mask where upon I told him I was exempt and he said no more. We made a trip to Aldi just to see what was available and I found a very good bargain, an inflatable mattress which we could use for visitors to our house with its own motor built in for the price of £19.99. I decided to treat myself to that as well. We tried it when we got home and it is very firm.
We arrived back home about 8 p.m. I decided to continue the celebration by having a birthday cake and champagne tomorrow Tuesday. I look forward to this.
I have decided that there is not enough music in my life at the moment so I'm going to declare my 77th year to be the year of music.
You may have noticed  larger gaps between my entries in my journal. This is not because less is going on in fact I am more busy than ever maintaining my covid-19 site but there is nothing new of note to advise you on. I do not want to bore my readers to death but be assured the when something interesting comes along I will record it