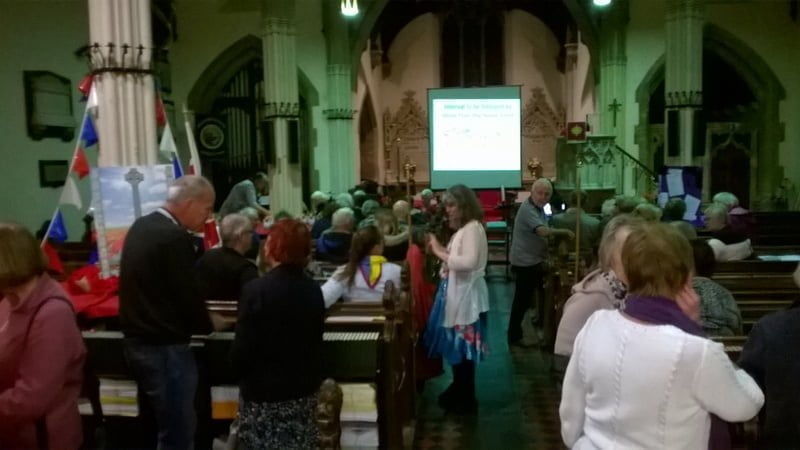 We were trying to decide whether to go to the local church service, all Saints in Paulton or go to a talk about Mediterranean plants at the Clutton Garden Society.   I'm very glad we chose the former. It was raining cats and dogs and I in my pessimism I expected  to see about half a dozen people but I found a church full of people.  We arrived 10 minutes early but were one of the last and had to find seats at the back.
It was not a church service as such but a celebration of the Spirit of WWI, the singing of many well-known songs, " pack up your troubles in your old kit bag" and such like.    There was dancing,  a nod to the contribution of America and France, and a very jolly occasion but at the same time I minutes silence to commemorate the dead.  There followed poems and stories.
I noticed that one man in his 80s was overcome with emotion and left a church at a critical time coughing and spluttering. I wonder how many unresolved emotional memories there are lurking around people of a certain age.
There is no question, the community at least in our part of the world is alive and kicking.  As I may have mentioned, our vicar who recently left was not as popular as I thought.  Only 12 people are going to his new parish to see his inauguration.  When he first came to the church 16 years ago he pronounced that he didn't like old people He did not see them as talented and creative individuals who had made a big contribution.
One qualified professional person said that he was suffering from Aspergers Syndrome.  That would explain why the mood at the coffee last Tuesday was so good, people are relieved to see him go.  I said to one congregant that when he wore dark glasses he reminded me of Dracula and she said that gave her shivers up her spine.  Anyway some people love him so hey who are we to judge?
Such were my thoughts as we departed to the car on a rainy and windswept evening.