What more delightful day could we find to go to one of the Pagan ceremonies of the year held at Chalice Well. Clear blue sky, very little wind, crisp and cold about 6°C. When we arrived, the wait for coffee was so long that I did not trouble to join the queue. First of all, we visited The White Spring which is a natural, calcium rich spring in a Victorian pumphouse, now a free entry temple and pilgrimage site. The whole thing was flooded because of the recent rain. The images do not do justice to the magic of the rushing water inside what was virtually a cave where you could see very little but hear the sound of someone chanting lustily.
The St Bridget's (Brigid's) Day ceremony takes place as do all ceremonies at midday. The officiant, one of the ladies who run this essentially goddess centre, delivered a very encouraging talk including mentioning the possibility that St Bridget herself visited this place. She was born in Ireland about the year 450 A.D., the daughter of a pagan chieftain and Christian slave woman. She found the expression on her faith in feats of charity, giving generously to the poor.
Imbolc is an ancient Celtic Festival associated with the goddess Brigit to mark the beginning of spring. The word comes from the All Irish 'oimelc', ewe's milk. Imbolc is about the first stirrings of life, the quickening of the year, the promise of renewal, of hidden potential, of Earth awakening and life-force stirring. It is a good time for wish – making or making a dedication.
The officiant found inspiration from the symbol of snowdrops, at one and the same time vulnerable and yet strong enough to break through the earth.  She reminded us of the origin of the word 'courage' which is from the Latin cor – heart; a metaphor for inner strength. More significantly to me on this occasion, she reminded us of the words quoted by Nelson Mandela which I think everyone should emblazon on themselves on a daily basis .
"Our deepest fear is not that we are inadequate. Our deepest fear is that we are powerful beyond measure. It is our light, not our darkness that most frightens us. We ask ourselves, Who am I to be brilliant, gorgeous, talented, fabulous? Actually, who are you not to be? You are a child of God. Your playing small does not serve the world. There is nothing enlightened about shrinking so that other people won't feel insecure around you. We are all meant to shine, as children do. We were born to make manifest the glory of God that is within us. It's not just in some of us; it's in everyone. And as we let our own light shine, we unconsciously give other people permission to do the same. As we are liberated from our own fear, our presence automatically liberates others." Marianne Williamson, from her book "A Return To Love: reflections on the principles of a course in miracles.

After the talk, we stood together for about 5 minutes and then we all held hands and shared the energy we had with the world while the officiant chanted an ancient song.   These occasions are always uplifting. I went to have a drink from the water of the holy spring and walked around as in a daze.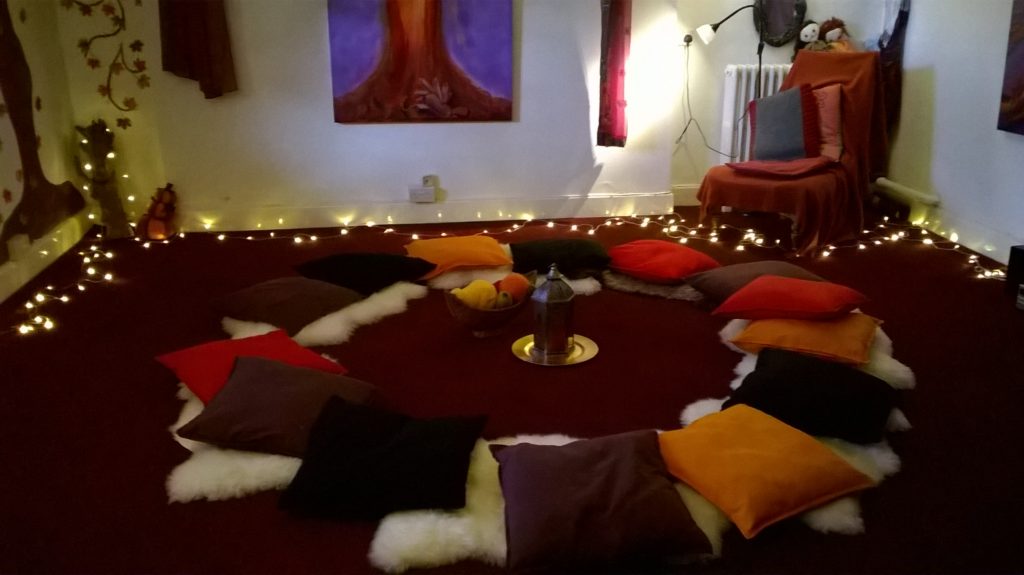 We did our usual trip around Glastonbury and visited the Glastonbury Goddess Temple. This relatively new venture is a testimony to what can be done by women for everybody by providing a peaceful environment, a wide variety of services including worship, various treatments, and just the opportunity to sit and be quiet. There are four rooms which are used for seminars and workshops but also designed with various predominant colours in mind and they are really beautiful. I cannot imagine the amount of love and caring that has gone into the design. My partner and two friends went for drop-in healing which was being offered on this four-day Imbolc Festival. I was quite happy to sit in the quiet. I admit I snuck off downstairs to sample some of the excellent chocolate cake and copy that was available. Visitors please note – you can come in and sit down any time you like. The door is open and you will get a warm welcome from one of the volunteers that will be sitting in front of it. Please note that you have to remove your shoes.
It was a great coincidence that one of the friends that joined us was called Bridget so we decided to call her St Bridget for the day, an appellation that she readily agreed to. I wish that all the Women's Liberation and Politically Correct people would come along and meet some real women. All the women at the well and most of them in Glastonbury are goddess types and they know what power means. Power is not bullying or power over someone or kicking the hell out of men but simply knowing who you are and that we are all gods and goddesses within.
The common denominator of campaigners, particularly those who hate men, are that they are angry. They probably didn't get on very well with their fathers, they very likely had abusive experiences with a man, and instead of dealing it with suitable professional help, they turn up in public and dump their load of you know what in the public arena. Ladies –come and meet the Glastonbury women. They are confident, assured of themselves and their position in society, intelligent with a sense of humour and it is a delight to talk to them. They do not feel threatened by men and men do not threaten them.
It  is always worth being on the lookout because signage and posters tell a lot about the nature of the town or village. The first one is about welcoming people to a church. I reproduce the text here because of the impossibility of photographing a poster with reflections of the road behind.
LOVE
No conditions apply.
the thing about Jesus was
he really saw people
he even noticed people who hung back
it didn't matter who they were
what they had done
he welcomed everyone
and so does this church.
There are no conditions of entry
you don't have to look a certain way
or live a certain way.
You don't have to be white,
or straight, or able-bodied
Or married, or middle-class
or coping
You just have to be you
This is the most folksy example of unconditional love I have seen. I spotted it on a United reformed Church noticeboard.
The other one was an invitation to be a volunteer at Chalice Well, in which the following reasons were given for becoming a volunteer:
Make a difference to the well-being of others
feel valued as part of a team
Spend quality time in a peaceful environment
gain confidence and self-esteem
gain new skills and knowledge
develop existing skills and experience
enhance your CV
meeting new people and make new friends
get to know the local community
Why not call us, pop into the office, or visit www.chalicewell.org.uk for more details. 
The social institutions of this country could not survive without volunteers. Think of the National Trust who are run for the most part by volunteers, the Samaritans, many libraries these days, Citizens Advice Bureaux and all the other services we take for granted.