Today Sunday was a day of walking, scrambling, trying to keep our balance in the mud and looking out for seagulls relieving themselves on our head. Nearly all of the south coast of England has been made into a Coast Path National Trail. There are many downloadable walks which will keep you occupied for the best part of any year.    We just got the merest feel of it by walking from Exmouth to Budleigh Salterton. It looks a tiny distance on the map but actually took about three hours. We started by walking along the beach of our departure point, Sidmouth. I have never seen so many dogs running around in a high state of excitement. They are banned on the beach from April 1 but in the winter it's 'game on' for our four-legged friends.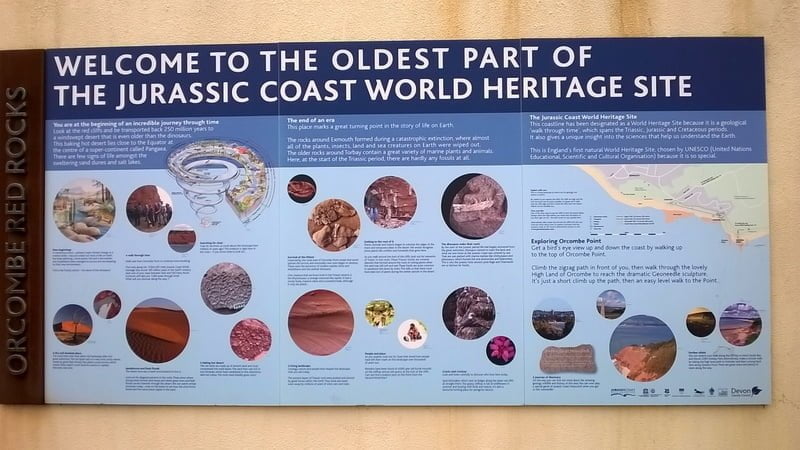 Theoretically, it is possible to walk the whole length of the coast along the beach but you have to time it just right and wait for the tide to come out and scoot around the rocks at the end of the promontory. We therefore decided to take the official path on the top of the cliffs. Whilst still on the beach, we had noticed the local lads enjoying themselves surfing, not being  put off by the rather inclement weather
The Jurassic Coast theme is a very valuable asset from the moneymaking potential of the tourists and the whole thing is very well signed. The next part of this essay is mainly pictorial.
I must now tell you about how to walk up slippery clay paths. Due to the recent rain it was almost impossible to gain purchase even with good shoes. I developed a technique for walking sideways like a crab, a bit like when sailors tack into the wind. What you do is place your left foot into a piece of the path muddy or otherwise and then place your right foot well apart slightly above the left foot but on the right, pushing downwards to the right side. You then lift your left foot and again push it into the left side slightly further up say about 12 inches. You need to push against the mud and not try and defeat gravity by walking directly up. Walking up is a recipe for sure disaster. Boots with deep tread are essential.
Halfway towards our destination, we came across the most amazing Caravan Park, Sandy Bay. It is Caravanning on a vast scale. Because no one was there due to it being off-season it had a rather eerie feel about it. I was told that there were no less than 2000 caravans. In the fog and the drizzle they did not look exciting but I was promised that in season everything springs to life. It is lovely hearing the sea crashing on the rocks so far down that you cannot actually view it. Three hours later we arrived at our destination more exhilarating than tired. I think we heard more variety of birdsong on this walk than in most places because it is a preserved area.
In Budleigh It was Sunday afternoon and most of the shops were closed, but there was a coffee bar and restaurant catering for the affluent. Prices were well up to London standards but so I was told all the cakes were baked on the premises by the owners who happened to be pastry chefs in a past life. I engaged them in conversation at length and gave my detailed feedback on how good I found the first slice of the cake that I chose. £3.75 is not cheap but there were no chemicals in it and it was a goodly slice.
Signage I consider is very important for visitors. If you need basic facilities like a toilet you should know where they are and this sign gets 10 out of 10 from me. Well done local council.
more follows.