Difficult to write something without shooting yourself in the foot. I wonder why it took them eight years to realise that not all was well. I suppose you could say the same thing about Jimmy Savile. they removed some people from their positions or allow them to walk away so they must have known what was going on. I would have been more impressed if they said "we knew something was going on but did not have the courage to face them".
We left the hotel where we had happily stayed for three days. My wife went to pick up a bag of sand which she will use to create a miniature beach at home. We left our hotel rather sadly because it was good fun and these type of holidays are the only time I go a bit silly and play bingo, I won £20, half the second prize, on Saturday.  Off we drive to Budleigh Salterton on the way home.  We parked and on the way to the high Street I overheard a conversation which ended "well it can't get better than that". I, being me, jumped into the little conversation group and was immediately welcomed with no barriers or questions about who I was etc. I met a delightful chap called Stephen who was with his French wife so my wife and his had a good conversation.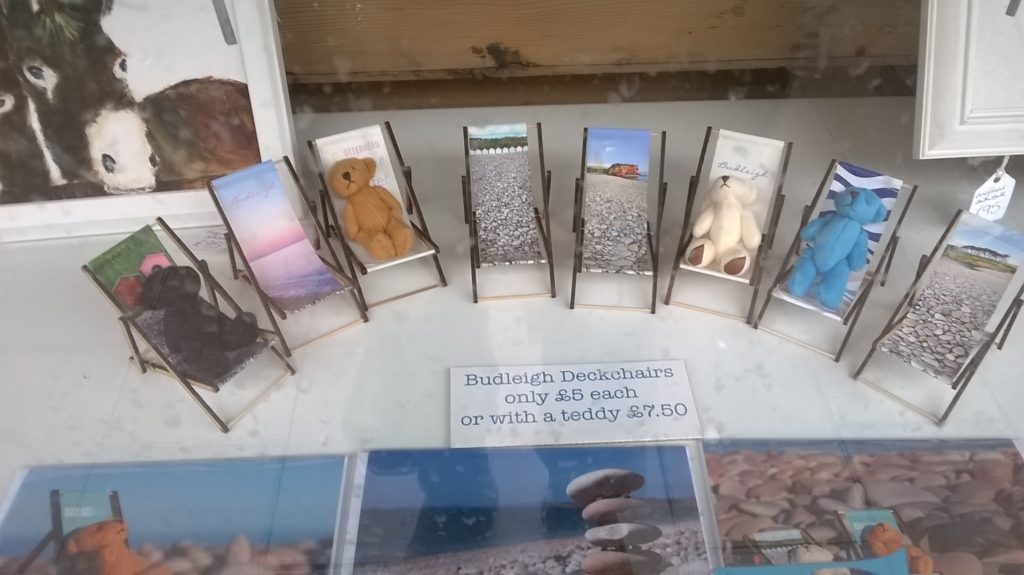 He told me that there were many local festivals and events. There is a Food and Drink Festival in April and a music festival in July. Their literary festival had been going for about eight years and most of the events were sold out.  He also mentioned the librarian, a person called Jane, and said that I should go and introduce myself to her. This town is small enough that everybody knows everybody else so there is really no need for anybody to be lonely with the possible exception of the housebound older people  who cannot get out and about as much as they would like.  The population of this town was 6,575 in 2012 so let's guess at 7000. Maybe this is the ideal size for an organic unit. It does help that there is money around.
I love rolling out ideas. This is a great idea with do-it-yourself tea and coffee offered in the library but it would only work in an area with a smaller throughput otherwise there would be lots of cuts which would need to be washed and the place could become messy.
We met the said Jane and she was a veritable dictionary of information. I understand that she helps people to borrow the right book. She loved her job and loved people and this came across loud and clear.  We chatted for 15 min, during which she dropped her papers three times and picked up but was not bothered. The Stephen with whom I spoke it said that he does not keep books at home but every time he goes into the library, he finds the next one with his name on it so to speak in the 'recently returned' section. I told him about my incurable bibliophilia and my great difficulty of throwing any books away.
*****
I Skyped with my friend in Cyprus who is a therapist. She is trying to recruit people for her forthcoming workshop and is trying a new idea, 'bring your friend for a discount'. She thinks that some people are shy coming to a workshop on their own. she says that this idea has worked in the past, so why not.